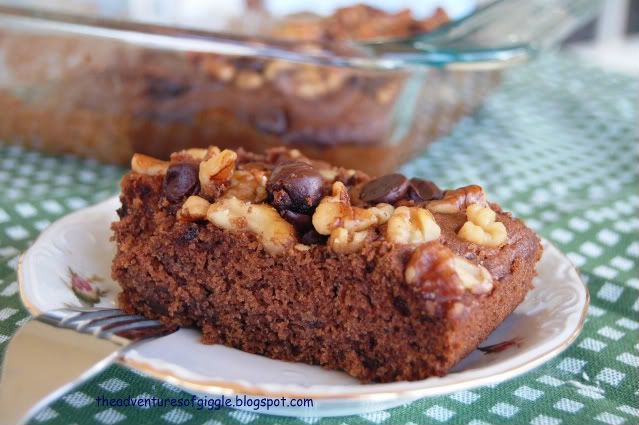 On of my colleagues, Janet, made this cake for our front desk lady's birthday. I was curious how would it taste. Surprisingly, I fell in love immediately right after I had the first bite. The cake was moist but not greasy, not too sweet. I thought Tom may like it too. I am so thankful that Janet was willing to share the recipe (from Mary) with me. I seized a short break to make this cake yesterday, it was quick and easy. Tom loves it. Both of us finished it in just 2 days.
I may try to use banana in my next attempt, I think it will taste great too. I used glass bakeware this time, I think it would be dry at the edges if using steel bakeware. So, you may have to adjust the heat and time if you are using different bakeware.
昨天忙里偷闲做了这蛋糕, 真的好好吃吔....不油腻, 吃了不会有太大的罪恶感. 做法简单又快速, 以后会常做来吃. 下次做的时候会尝试用香蕉来代替 Zucchini ,我想味道也一样棒吧?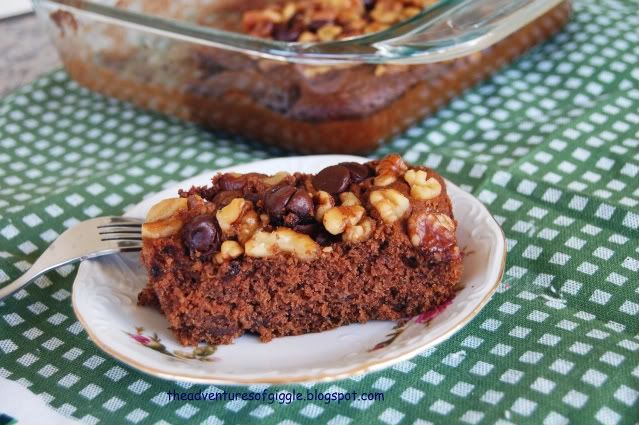 A)
1. 1/2 C butter
2. 1 3/4 C sugar (I used 1 1/2 C brown sugar)
3. 1 tsp vanilla
4. 2 1/2 C flour
5. 4 Tbsp cocoa powder
6. 1 tsp soda
7. 1/2 tsp baking powder
8. 1/2 tsp cinnamon
9. 1/2 C vegetable oil
10. 2 eggs
11. 1/2 C sour milk (add 1/2 tsp vinegar to milk to sour)
12. 1/2 tsp salt
13. 1/4 tsp cloves (I omitted it because I don't have it in my pantry, still taste good though)
B)
1. 2 C grated zuchinni
C) Topping (adjustable to your personal liking, the cake itself is not that sweet, I like it better with the sweetness from the chocolate chips topping)
1. 1/2 C ~ 2/3 C semi-sweeten chocolate chips
2. 1/2 C chopped walnuts
3. 1/2 tsp cinnamon (omitted because I'm not a big fan of cinnamon)
4. 1/2 brown sugar (omitted, I like it with more chocolate chips)
Steps :
1. Preheat the oven at 350F.
2. Mix all the ingredients A together.
3. Fold in grated zucchini.
4. Pour into un-greased 9 X 13 glass bakeware.
5. Mix together ingredients C, sprinkle over top of the cake batter.
6. Bake at preheated oven for 40~45 minutes. (Adjust accordingly if you use steel bakeware)
Happy baking! :-)