The "Pot Sticker" (锅贴) is one of the popular appetizers in US Chinese restaurant, some Chinese people call it 煎水铰 (pan fried Chinese dumpling), it is not just only well known among Chinese ethnic in US, you will find it has been included on the menu in some of the US grill restaurants too. I used to buy frozen packs from Lee Lee (my favorite Asian supermarket), they have different kinds of filling, pork meat, vegetarian, lamb...etc. Since the ingredients of the filling are not hard to obtain, I have tried to invent my own style of pot sticker filling, I'm glad it turned out great, Tom loves it!!
Ingredients below can yield approx. 60 dumplings.
A)
1. 1 lb ground pork - minced well. Mince better than just the ground pork, really mash it up!
2. 1 cup finely chopped head of Napa cabbage (大白菜)
3. 3/4 cup chopped 4~5mm length Chinese chives (韭菜)
(you may add more if you like the strong taste of chive)
4. 6 cloves large garlic - minced
5. 1/2 cup finely chopped green onion
6. 2 tsp grated fresh ginger
B)
1. 2 tsp of sesame oil
2. 4 tsp of Shao Xing wine (绍兴花彫酒)
3. 1 tsp ground white pepper
4. 3 tsp of oyster sauce
5. 3 tsp soy sauce
6. 1/4 tsp salt
7. 3 tsp corn starch
In a large mixing bowl, mix all the ingredients well.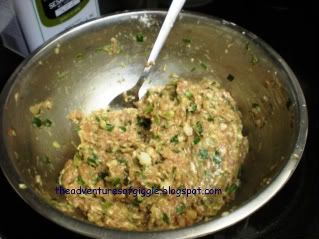 Dumpling Skin/Wrapper (水铰皮) - I got them from Lee Lee too, I'm too clumsy to make them from scratch. The ingredients are simple (warm water, flour, pinch of salt), but the work of rolling each small dough piece by piece just frustrates me. I will try to make it from scratch once my wrapping and pleating skills improve. Please don't confuse with the dumpling skin and wonton skin (云吞皮), they are not the same, wonton skin looks yellowish as it contents egg ingredients. You must get the dumpling skin for this recipe.
To wrap the dumpling, place a small spoonful of the filling in the center of the skin, brush the
edge of the skin with some water by your fingers, then fold and pleat the dumpling accordingly. I'm still clumsy on dumpling wrapping, a
s yo
u can tell from the photos, so don't laugh at me ya!!! LOL!!
I can't finish 60 of these dumplings at once, I freeze them in a bag and just grab some then cook them whenever I am craving for them. To prevent the dumplings from sticking together when freezing, sprinkle some flour on a baking sheet, align the dumplings properly, freeze for about 1~2 hours, remove from the freezer, keep them in a storage bag and return to the freezer.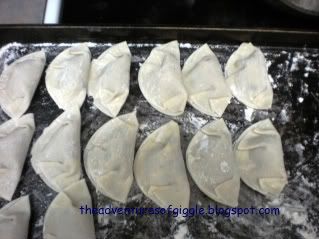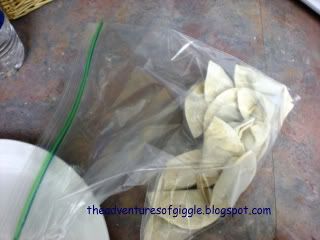 For cooking, heat up and grease a frying pan with just a little oil, switch to medium heat, place the dumplings on the pan, cook for 2 minutes at medium heat or until the bottom part turns light brown, flip them over, pour the water to cover half of the dumplings, cover with the lid, cook in high heat for another 3~4 minutes, remove the lid, immediately switch to medium heat and continue the cooking until the water dries out and the bottom part turns brown, flip the dumplings again and cook for another 30 seconds. Serve warm, dip with some soy sauce and vinegar (optional).