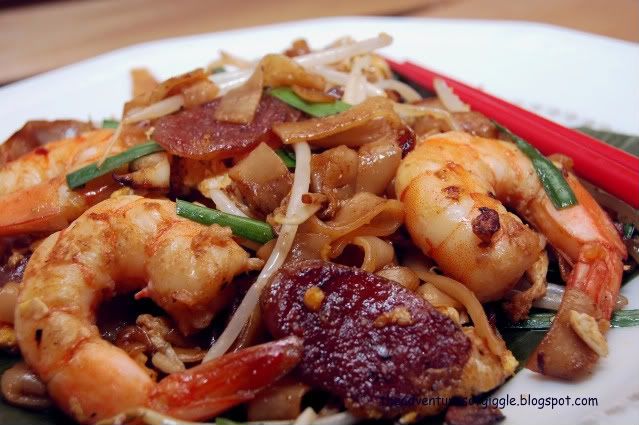 I like to use extra large prawn for my Char Koey Teow (CKT). I should have named it Penang Lorong Selamat Char Koey Teow!!!- The famous stall in Penang with "sombong" Auntie and over priced CKT. Many years ago it was about RM4~RM5 a plate, I don't know how much is that right now, may be RM7~RM8?? Why pay so high? We can make it our own with extra prawn too!!
I came from a hawker family, I grew up from a famous hawker center/food court in my home town. I liked watching how those hawker prepare the food, like Hokkien Mee, Jawa Mee, Ikan Bakar, Char Hor Fun, Hokkien Char, Char Koey Teow...etc. I was there until I finished my high school - 15 years of watching...LOL!! I will never forget how they control the heat, the timing of cooking. It is just become my instinct now.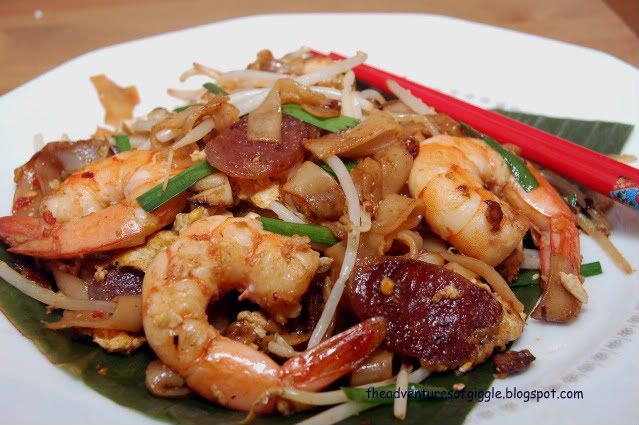 Tricks to make a good CKT :
1. Sauce (everyone has their own secret recipe/ratio in sauce mixing, it is all about soy sauce, oyster sauce, dark soy sauce, fish sauce, sugar)
2. Heat
3. Timing ( a plate of CKT should be done in approx. 3 minutes with appropriate heat The best way to learn is watch closely every time when you order CKT outside, compare the differences of the texture when you eat it at different places)
4. Use pork lard
5. Fresh ingredients
The recipe I am going to share today is from my relative. She is not as famous as Lorong Selamat Auntie, but has a good reputation too. Trust me, I was seriously thinking of selling CKT if I have never met Tom. I was so frustrated and tired of my work, and had deeply considered to switch my carrier. I used to worked 16 hours a day. My relative who is selling CKT works only 4~5 hours a day, 5 day week, and her income is more than those Manager levels...LOL!! Never mind, I think I will still want to sell CKT one day when I retire and move back to Penang with Tom.. :-) . Use extra large prawn for my CKT and sell it cheaper than Lorong Selamat CKT, I really "beh siok" - not happy with the owner! LOL!!!
Here's the recipe for the CKT sauce, you can mix extra and refrigerate it :
Mix and stir to blend well.
1. 2/3 cup soy sauce
2. 1 tbsp dark soy sauce
3. 2 tbsp oyster sauce
4. 2 tbsp fish sauce
5. 1 tsp sugar
Ingredients for a plate of CKT :
1. 2~3 garlic - chopped
2. 3~4 extra large prawn (personal preference)
3. Bean sprout (soak in the water, when you add the bean sprout to your CKT, the water drip will keep your CKT moisture)
4. Fresh Koey Teow (keep in mind that if your koey teow have been kept in fridge, it will need longer time to cook through - probably extra 60~90 seconds)
5. Lap Cheong (Chinese Wax sausage) slices
6. Fresh cockles (I couldn't find it here, so I skip it)
7. Chinese chives
8. Pre-mixed CKT sauce
9. Chili Paste
10. An Egg
11. Some while pepper powder
Steps (I can not tell you exact timing when do you need to add the ingredients, it is all depending on the heat and experience, it should be done in approx 3 mins for a plate of CKT, like I said before - watch closely how those hawker prepare your CKT) :
1. Heat up the pan
2. Add a table spoon of oil/pork lard (those hawkers usually add more than that)
3. Add garlic, then prawn (stir for few seconds)
4. Add 1/2 of your bean sprout
5. Add koey teow, immediately follow with a 1~1.5 table spoon of the CKT sauce, chili paste, stir to coat well.
6. Stir the koey teow to the side of the pan, grease the middle of the pan with some oil, drop an egg, few drops of CKT sauce, some white pepper.
7. Cover the egg with the koey teow, immediately add in cockles, lap cheong, another half of bean sprout, chives.
8. Stir to mix well, remove from heat and serve warm.