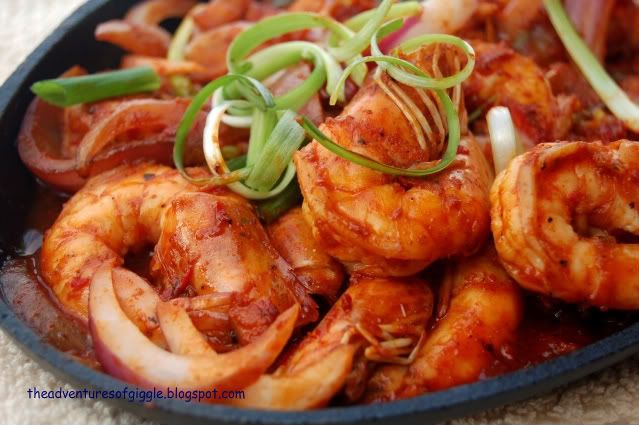 Tom is leaving for China on a business trip again. I am trying to clear out some food from the freezer to cook something nice for him before the trip. After that, I think I will just have all kinds of noodle soup for 3 weeks while he is away.
Here is what I got for his meal the second day before his departure. The spicy sauce is really good to mix in rice. Keep in mind that this dish is served on a heated hot plate, so don't overcook the prawns.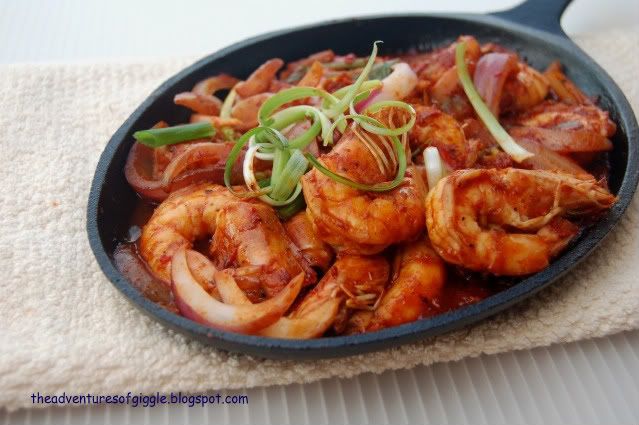 Recipe for Spicy Sizzling Prawn :
1. 300g large prawn - trimmed, de-veined, peeled (optional)
2. Chili mixture - pound or blend the following ingredients:-
i) 3~4 red chillies - unseeded
ii) 1~2 cloves garlic
iii) 4 purple shallot
3. 4~5 ginger slices
4. Some onion slices (approx. 40~50g)
5. 1 tsp oyster sauce
6. 1 tbsp sweet chili sauce
7. 1/2 tsp dark soy sauce
8. 3~4 tbsp water
9. A dash of sugar (optional)
10. 1~2 tsp Lime Juice (can substitute with tamarind juice)
11. Salt to taste
12. Some green onion for garnishing
Steps :
1. Heat up a hot plate to be used for serving in separate stove.
2. In another heated and greased pan, fragrance the ginger and onion slices
3. Add Chili mixture and cook for 30~60 seconds (watch out the heat)
4. Add in prawn, oyster sauce, sweet chili sauce, dark soy sauce, stir for evenly cooked.
5. Add some water, a little at a time and stir to mix well.
6. Season with a dash of sugar, lime juice and salt to taste.
7. Dish out and serve on a a heated hot plate.