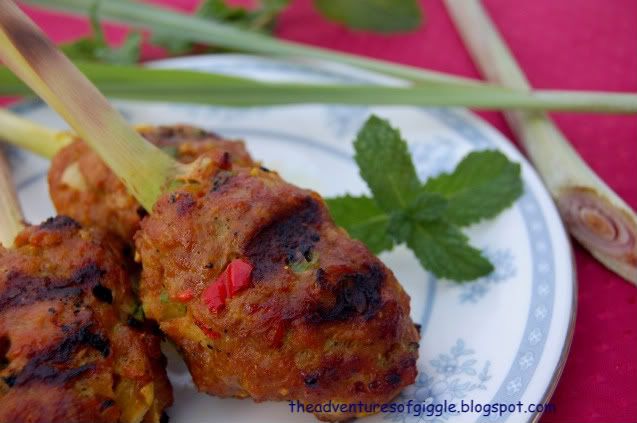 I have a big bunch of lemon grass growing perfectly in my back yard, besides just using it for curry and sambal prawn, I guess I could use it for something else. Like this lemon grass pork skewer, just something which came into my mind while I was looking at my lemon grass and wondering what else I could make.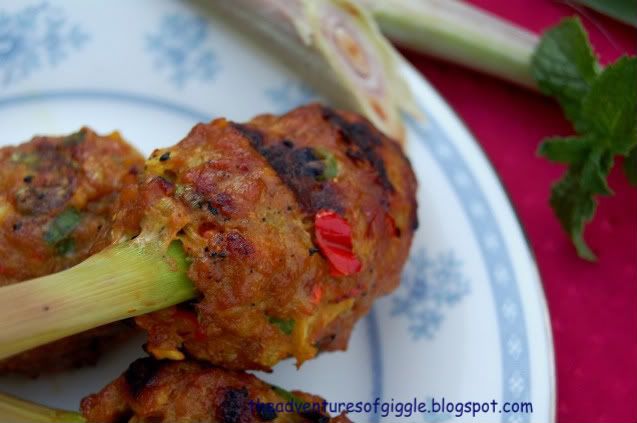 The pork skewer is full of lemon grass aroma and delicious. I may use ground chicken or beef for the same recipe someday. I just used what ever seasoning I have and feel might be a good match with lemon grass - nothing complicated - just be creative and follow your taste buds.
1. 220g ground pork
2. 3~4 stalks lemon grass - pre-soaked for at least 1 hour, lightly crush the end of the stalk.
Marinate :
1. 1 tsp turmeric powder
2. 1 tsp curry powder
3. 1 tsp corn starch
4. 1 tsp oyster sauce
5. 1/8 tsp salt
6. 1.5 tsp soy sauce
7. 1/8 cup of finely chopped onion
8. 2 cloves of garlic - finely chopped
9. 1/8 cup chopped green onion
10. Some red chili flakes
1. Mix all the marinate ingredients and finely chop again with the ground pork until well combined.
2. Marinate for at least 1 hour or longer for better better taste.
3. Rub the marinated ground pork on the end of the lemon grass stalk.
4. Grill over the pre-heated grill at medium high heat for about 6~7 minutes for each side.