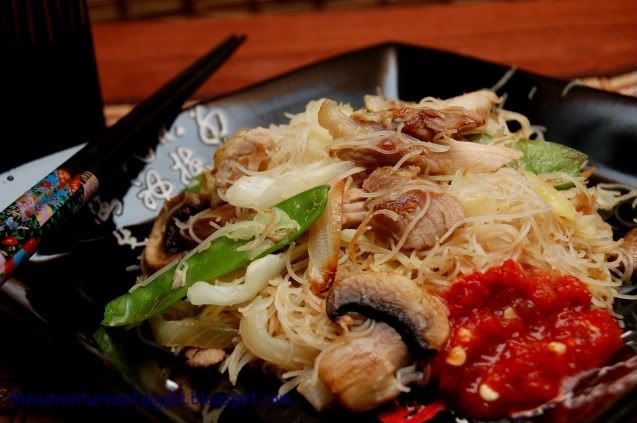 My friend was wondering if a 10lbs of turkey for a small family like us would be too much. We didn't finish it all at once, there are many ways for us to consume a turkey, so, I don't have to worry too much about the left over. In fact, I can skip cooking for few days. :-)
I can make turkey sandwich, fried noodle or rice with turkey, and the turkey bones will be used for porridge or soup.
Fried Bee Hoon :
1. 200g rice noodle - presoaked
2. 1/2 sweet onion - sliced
3. 4 mushrooms - sliced
4. 1 ~ 2 cups cabbage slices
5. some snow peas or desired vegetable
6. 1 cup bowl of turkey meat & some dripping
7. Some water
Seasoning :
1. 2 tsp oyster sauce
2. 1 tbsp soy sauce or to taste
Steps :
1. Grease the heated frying pan, fragrance the onion slices over high heat.
2. Add in mushroom slices and 1/2 of cabbage, stir for 30 seconds.
3. Add in rice noodle and seasoning. Sprinkle some water and stir fry for 2~3 minutes.
4. Add in snow peas, turkey meat, sprinkle some water. Continue to cook for another 3~4 minutes.
5. Serve with warm with some sambal chili. :-)