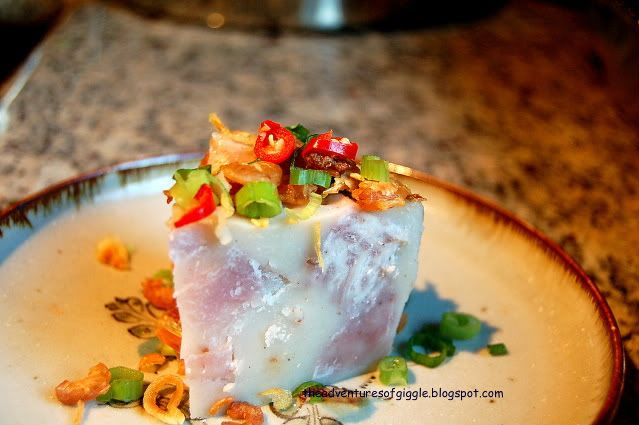 I have been craving for this kuih for long time. The one sold at Dim Sum restaurant here is different, I can't see any taro bites in it. So, I decided to make this for my friend's birthday and uploaded the photos to my FB, my friends asked for recipe. Here you go! Please note that my version has a lot of taro cubes it in, it makes the cake firmer, if you reduce the amount of the taro, you may have to reduce the amount of the salt too. Best to be eaten with some sweet chili sauce! Enjoy.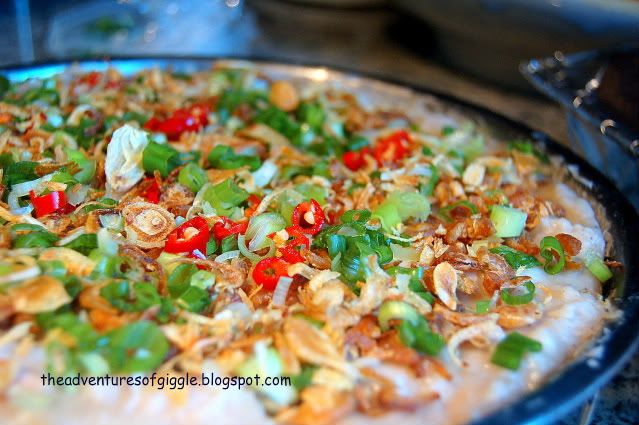 芋头糕当然要有瞒瞒的芋头块才叫芋头嘛!如果想减少芋头的份量, 记得也要调整盐的用量哦!
Recipe & Steps :
Ingredient A
1. 2tbsp oil in a heated non-stick pot
2. 2 tbsp crispy onion (洋葱酥)
3. 550-600g taro (cubed)
4. 1 1/2 tsp 5 spices powder
5. 1/2 tsp white pepper powder
Ingredient B - mix the following ingredient in a big mixing bowl, stir to mix well and smooth.
1. 1.5 Liter water
2. 300g rice flour (水磨粘米粉)
3. 75g corn starch
4. 2 1/4 tsp salt
5. 1/3 tsp white pepper powder
Ingredient C - garnishing/topping - can adjust to your personal preference
1. 40~45g dried shrimp (stir fried with little oil in a non-stick pan over medium heat for 3~4 minutes)-chopped (optional)
2. 1/3 cup chopped green onion
3. 1 red chili - seeded and chopped.
4. 1/3 cup crispy onion
Steps :
1. Stir fry ingredient A in a non-stick pot until the seasoning is well combined. Turn to medium heat.
2. Pour in Ingredient B, cook and stir constantly until thicken.
3. Pour everything into a round pan (10" diameter, 2" depth)
4. Steam on high heat for 45~50 minutes.
5. Remove from steamer and let it cool for little while before topping your garnishing ingredients.
6. Serve with some sweet chili sauce.