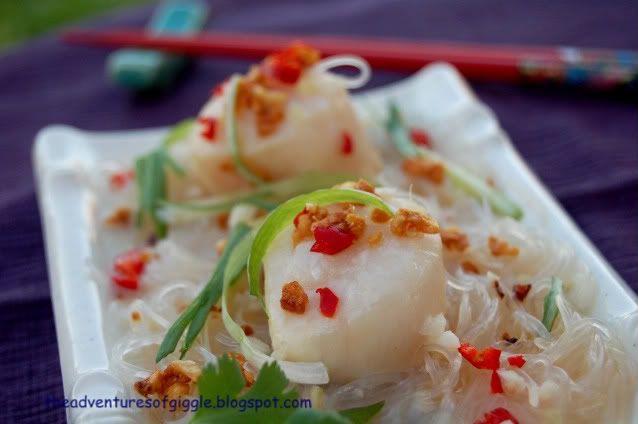 Long story cut short, I am in a hurry, just wanted to share this recipe really quick! This is one of my favorite dishes whenever I dine in seafood restaurant. I couldn't get the small fresh scallop with shell here. So, made it with the giant scallops just to satisfy my crave. :-p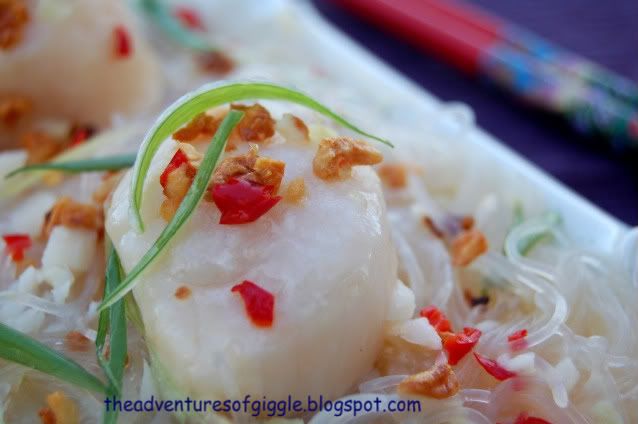 1. 280g scallop (about 6pcs)
2. 30g or as needed mung bean vermicelli
3. Sauce :
i. 2~3 cloves of garlic
ii. 2~3 ginger slice
iii.2~3 chili padi
(finely chop # i~iii)
iv) 1/2 tsp oyster sauce
v) 1/2~1tsp tsp soy sauce or to taste
vi) 2~3 tbsp water (add more if extra mung bean vermicelli is used)
4. Garnishing
i. 1 tsp shao xin wine (optional)
ii. 1 tsp garlic oil
iii. green onion and cilantro
iv. crispy garlic (蒜油酥)
Steps :
1. Boil the water in the steaming pot/pan.
2. Arrange the scallops on a bed of mung bean vermicelli in a steaming dish
3. Mix well all the ingredients # 3, and pour into the scallops.
4. Steam in high heat for 8~10 minutes.
5. Before remove from heat, add in garnishing ingredients # 4.
6. Serve warm.