I am taking a break for cooking. Too busy and also because of Tom was out 2 weeks to China for a business trip. I felt so down for being home alone and got no motivation to cook at all. Fortunately, Cici volunteered herself to keep me accompanied, she is really a sweet pretty girl. Anyway, I kept myself really busy to clean the house, re-arranging some furniture and getting some home decors to surprise Tom when he is back.
That wasn't cost me too much for this project. I searched over all the places that got the best deal and good quality stuff, browsing on the internet to get some extra discount coupons. Tom is quite satisfied with my arrangement. I made it a little bit like Balinese style as I like bamboo and natural wood a lot!!!
I forgot to take the photo before I do the decoration, but managed to find some old photos taken about 1 year ago for the comparison. It was fun and satisfied to make our home nicer.
I picked up a Chinese character 和 (means harmony) wall decor for our entrance. For me, have a harmonious family is very important. Old people said "家和万事兴" - means a harmonious family is a sign of prosperity (not sure if I translated it correctly, no matter what, it is a good sign.. lol).
I didn't want to spend too much money right now because eventually we will be tearing a lot of things for remodeling, our first project will be the master bathroom, I think we will do 95% of the work by ourselves (have to hire someone for the plumbing). I will try my best to post the progress pictures to share.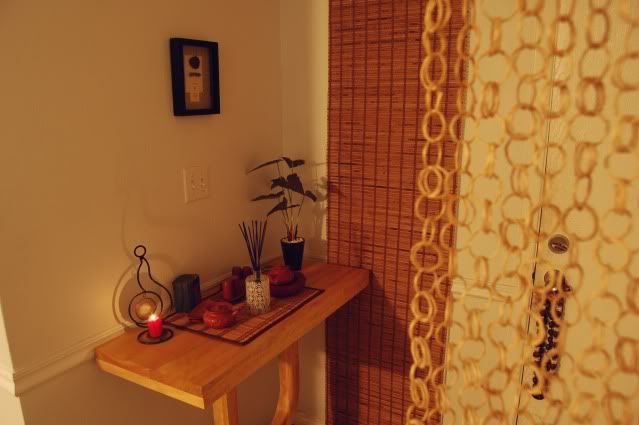 I moved the tea table that was sitting beside the couch to the entrance, hang up a piece of bamboo panel to hide the ugly window.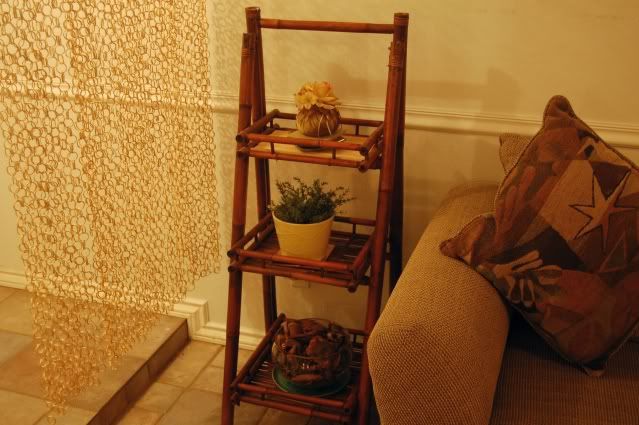 Moved a rack to this place and set it up with a pot of plant and some essence flowers.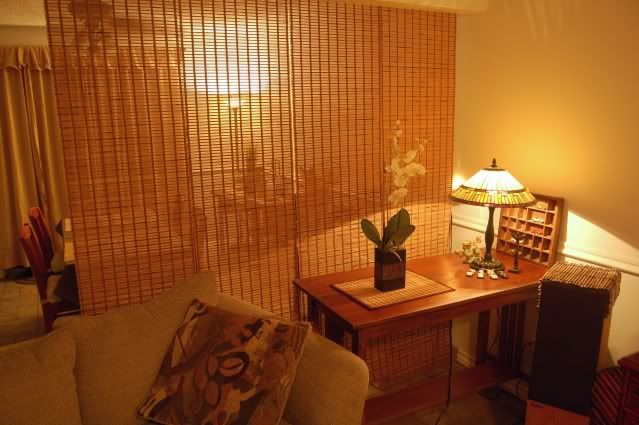 I am so happy that I found these bamboo panels on sales (50% off) at JC Penney and got another 15% off with online coupon, it is supposed for window panel, but I used them as a divider of our living room and dining room, that really gives our room looks like a little bit Ballinese effect! LOL!! I re-arranged the table that was at the back of the love seat to side at the wall and put a pot of silk orchid on it. Just love it!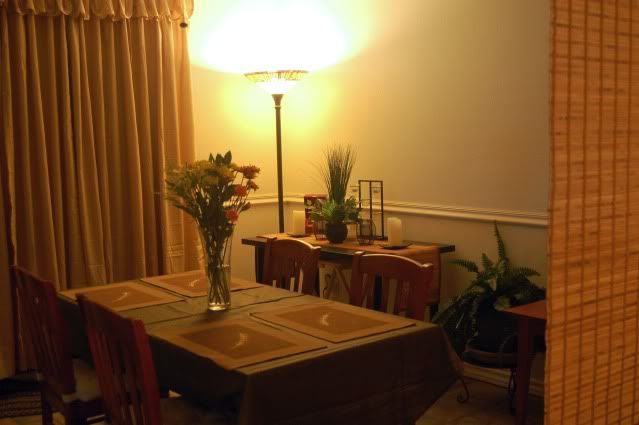 Got a new set of table cloth, place mat, bamboo runner and curtain from ROSS ( a place you could get a very good deal for some unique home decor and small furniture).
Do you like my decor?? Look at below photos that were taken before...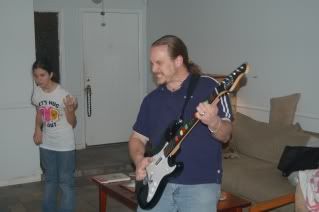 Tom and Cici were playing guitar hero....LOL!! You can see the plain entrance behind them.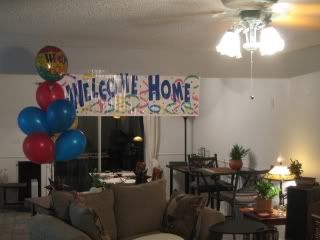 Tom set up a welcome home banner when I got back to US last year. This photo was taken from living room, we just had a love seat and coffee table set up as a divider between living room and dining room, I didn't quite like it as you can look through all the rooms...
This is the dining area taken on Chinese new year, we had Hot Pot in new year eve..., curtain was plain white and everything not quite well arranged yet.