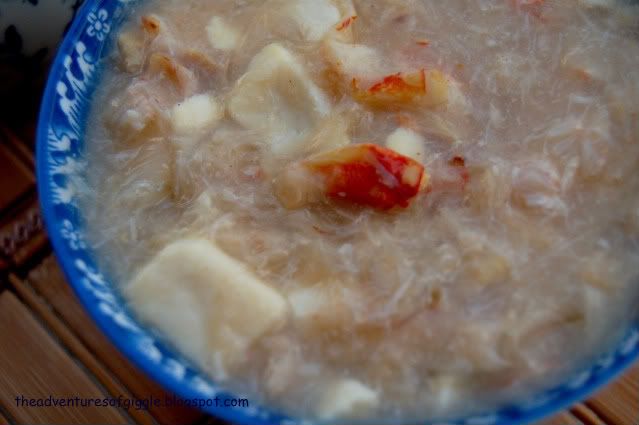 有没有很像鱼翅汤啊??? 吃起来味道也很像哦....Shark fin soup???
This is the soup I like to make whenever I am craving for shark fin soup. Tom actually like it better than the real shark fin soup because of the cruelty how we treat the sharks just to get the fins. I added silken tofu just to enhance the smoothness texture, you can omit it if you want to make it more real like shark fin soup.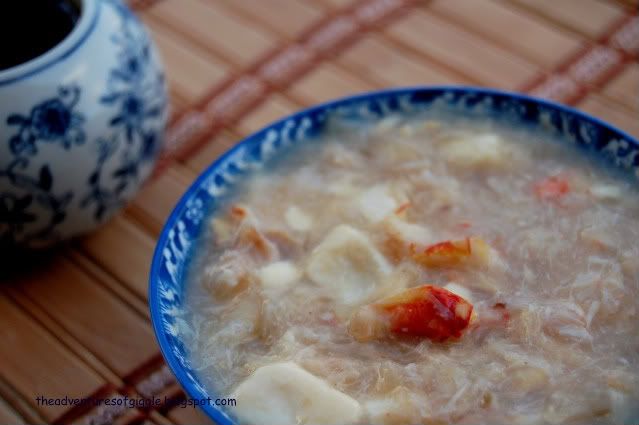 其实鱼翅吃起来真的没有什么味道, 为了减少那么一点罪恶感, 我还是用粉丝来代替好啦. TOM还蛮喜欢的. 你不妨一试? 我加了嫩豆腐是因为我喜欢滑顺的口感, 如果你想让它更像鱼翅汤, 你可不必加豆腐.
1. Chicken stock - 500~600ml
2. Dried scallop - 1 (optional)
3. Bean thread (粉丝) - 20g- pre-soaked and cut to about 3~4 inches strips.
4. Frozen crab meat - 300g (I like it more!!!) - thawed
5. Silken tofu (嫩豆腐) - 120g - cut to 1/3" cubes
7. Salt to taste
8. Corn starch water for thickening
9. Some Shao Xing wine
10. Black vinegar / Balsamic Vinegar
Steps :
1. Boil the chicken stock with dried scallop, add in bean thread, cook over low heat for 10~15 minutes.
2. Add in crab meat, cook for another 5 minutes.
3. Slowly stir in tofu cubes, bring to boil again.
4. Salt to taste, thicken the soup with corn starch.
5. Add some Shao Xing wine (1~2 tsp).
6. Serve hot with some black or balsamic vinegar