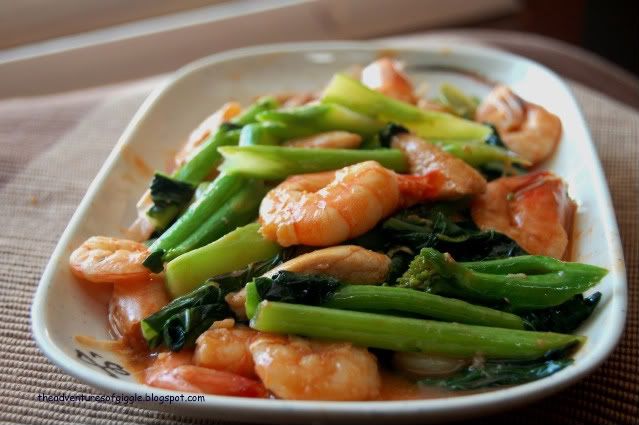 A dish we like to order when we dine at the "Chu Char" restaurant. It is Simple and fast if we make it at home, less than 10 minutes of the cooking.
1. 200g kailan (peel the skin of the stems if needed), cut to approx. 2~3 inches strips, separate the stem and leaf.
2. 3~4 garlic - chopped
3. 4~5 slices ginger
4. some chicken breast slices and medium size shrimps - my preferences - a lot of shrimps again!! (sometime the chu char will mix with some sotong (squid), fish cake slices too)
6. 1/2 tsp oyster sauce
7. salt to taste
8. 4~5 tbsp of water
9. Corn starch liquid to thicken the gravy
10. few drops of Shao Xing wine
11. 1 tsp vegetable oil
12. 1 tsp sesame oil
Steps (stir fry over high heat, it should be done in approx. 3 minutes) :
1. Grease the heated pan with vegetable and sesame oil.
2. Fragrant the garlic and ginger slices
3. Add in chicken and shrimps, stir fry for approx. 10 seconds
4. Add in kailan stems first, stir fry for 10 seconds.
5. Add in kailan leaf, oyster sauce, salt. Continue to cook for another 45~60 seconds
6. Sprinkle some water
7. Thicken the gravy
8. Add few drops of Shao Xing wine before remove from heat