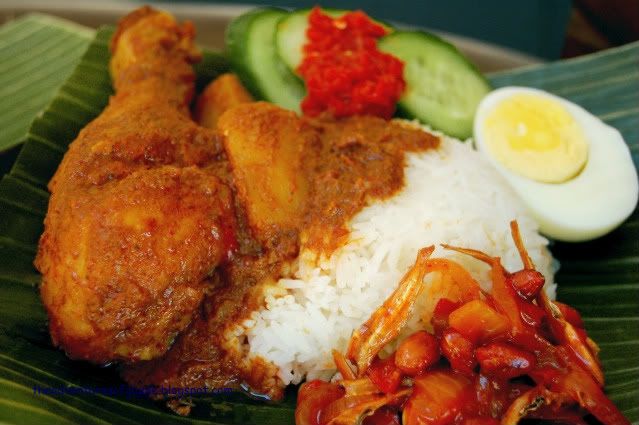 OK, back to cooking posts now.
It is July 4th weekend, we have 3 days off. There is no more reason for me to be lazy and find all kind of excuses not to cook.. :-p
It is not fair to Tom too, he has been eating too much of my lazy meals recently, fried rice, noodle soup, koey teow soup, beehoon soup, mee suah soup, fried noodle, pizza...etc. I feel a bit guilty...lol
We have a small pot luck party on this weekend, they ordered curry chicken from me, I decided to cook some additional ingredients for nasi lemak (coconut rice)just for ourselves and some of my friends I recently met here - they are from Singapore and Malaysia.
Recipe for Curry Chicken
Please keep in mind that this recipe is for 5lbs of chicken, adjust the amount of the ingredients if you cook for smaller portion.
It is impossible for me to find the fresh ground spices over here in Arizona. Hence I have invented my own version of curry chicken, I don't really like the typical Chinese curry chicken that with a lot of coconut milk gravy. I like curry Kapitan but it is too dry for me, so, I mix with a pack of curry rendang paste in order to produce more gravy to mix with the rice. Here's my version of curry chicken.
1. 1.5 pack (110g) of Hup Long curry Kapitan powder (see picture at the end of the post), it is available at local oriental supermarket (Lee Lee), I normally buy it from Penang (Carrefour or Tesco).
2. 1 pack (200G) of Mak Nyonya Rendang paste (see picture at the end of the post)
I brought this from Penang too, you can substitute it with any brand that is available at your local oriental supermarket)
3. 5lbs chicken, marinade with 0.5pack(35g) of curry Kapitan powder with 1/2tsp of salt for 1 hour.
4. 500g purple shallot - ground or blended
5. 4 stalks lemon grass - crushed
6. 8~10 curry leaf
7. 1000~1200ml water
8. 3~4 tbsp thick coconut milk
9. 2~3 tsp lime juice
10. 2pcs of lime peel (about 2" size) - optional
11. Salt to taste
12. 2~3 potato, cook until soft, peel and cut to chunks.
Note :
*** If I cook 1 whole chicken - approx. 3.5lbs, I will just reduce the Kapitan curry powder to 1 pack usage, reduce the water and coconut milk, I will keep the same amount of ground shallot.***

Steps :
1. Heat the pot, add in sufficient oil.
2. Quick fry marinated chicken
- Not to well cooked. About 2 minutes for a whole drum stick, less than 1 minute for the rest of cuts. I know this step may not sound healthy, but it prevents the meat from becoming mushy. And it makes the meat coat better with the curry gravy too. Split to few fries if you want to save the oil.
3. After quick frying the chicken, discharge excessive oil. Leave about 3tbsp of oil in the pot.
4. Fragrance ground shallot for about 5 minutes (adjust the heat if necessary), add in lemon grass, curry Kapitan powder (pre-mixed with some water), rendang paste and curry leaf.
5. Stir and fragrance for another 5~8 minutes.
6. Add some water water (I added 800ml first, then followed by small portion until it reached my desired texture, if you like thicker gravy, reduce the amount of water)
7. Bring to boil, add in pre-fried chicken, pre-cooked potato chunks. Simmer about about 10~15 minutes or until the chicken is tender.
8. Add in coconut milk, lime juice, salt to taste.
9. Bring to boil again then remove from heat immediately.
10. Add in lime peel - optional (I like it this way as it brings some tangy aroma to my curry chicken, the lime peel shouldn't be cooked, or it will bring bitter flavor to your curry gravy ).
11. Skim excessive oil if necessary.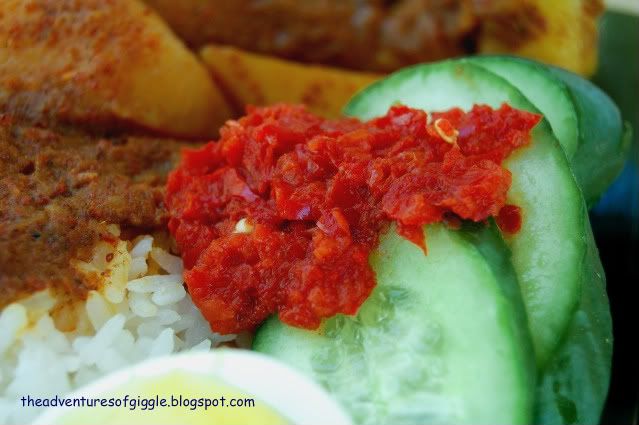 Sambal chili- I made this 1 day ahead and forgot to record the volume of my ingredients. I believe a lot of Malaysians have their own homemade recipe. I made it simple just a combination of fresh ground chili, roasted prawn paste (belacan) and key lime juice.
Sambal Ikan Bilis (Sambal Anchovies and Peanut)- only mix the sauce with anchovies and peanut when serving to avoid soggy texture.
I make this for small portion only just for ourselves and my friends from Malaysia and Singapore)
1. 100g anchovies - rinsed then dried with paper towel, bake in the oven for 25~30 minutes at 300f. Juggling the baking sheet every 10 minutes to prevent burning. I avoid to deep fry it for health reasons (try to avoid too much frying now..lol)
2. 150 peanuts - saute without oil until golden brown (again, avoid frying it)
Sauce for ikan bilis
1. 1tbsp oil
2. 100g onion slices
3. 2tbsp homemade sambal chili
4. 2 tbsp sweet chili sauce
5. 1 tsp oyster sauce
6. 70ml water
7. 1~2 tbsp tamarind juice
8. 1/2~1 tsp dark soy sauce
9. 1/2 tsp sugar
10. Some corn starch liquid for thickening
****no need to season with salt because anchovies are salty enough****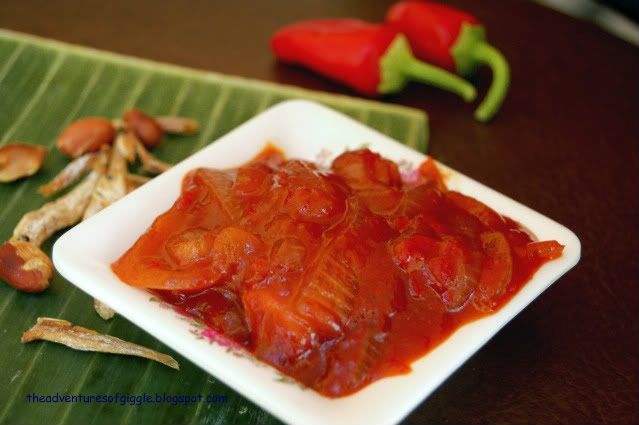 Steps:
1. Fragrance onion slices with oil.
2. Add in sambal chili, stir and switch to medium heat.
3. Add sweet chili sauce, oyster sauce and dark soy sauce.
4. Stir for few second then add in water, tamarind juice and sugar.
5. Bring to boil then thicken the sauce with corn starch liquid.
6. Remove from heat immediately.
Lastly...coconut rice, just grab all the ingredients below into a rice cooker then press start. :-)
1. 3 cup jasmine rice - washed and rinsed.
2. 2.75~3 cup water (depends on which brand of the rice you use)
3. 5~6 tbsp thick coconut milk
4. 1/4 tsp salt
5. 1 inch of fresh ginger chunk
6. 6~8 pandan leaf (screw pine leaf) - I like it more-- :-)
************************************************************************
Curry Kapitan powder - it is also available at oriental supermarket here - Lee Lee Supermarket.
Brought it back from Penang, I found it tastes better. The one sold at Lee Lee is the brand from Singapore.