My very first attempt!!! Whew....finally..
I have had a terrible sore throat these few days, it was getting worst since yesterday. I didn't sleep at all. Tom took me to the urgent care the first thing in the morning....ya...my Merry Christmas day --- in urgent care! :-( . The doctor gave me some antibiotic (pretty strong one) and pain killer - it helps a little bit, but still very painful when I try to swallow even just liquid...
Tom told me to hold off my turkey adventure as he saw me so sick. I didn't want to because I already started the marination yesterday, and I wondered if it may not turn out right if I change my plan.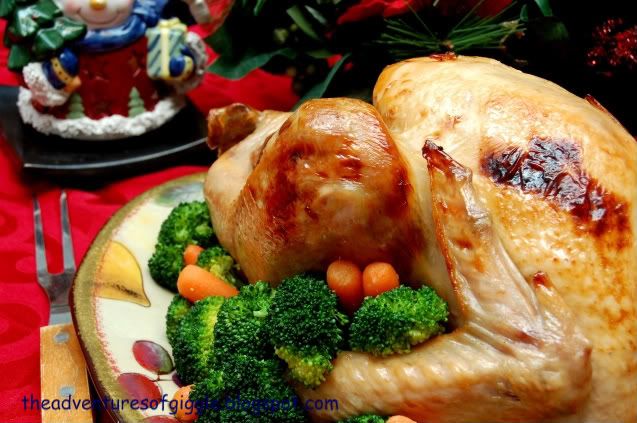 So, in this post, I have to give credit to 3 people. The first person is my honey - Tom. He helped me most of the baking process ( I was asleep after taking medicine), and also making the mashed potato. Yummy! Love ya!
Another 2 people are Joanne and Sherry. I got to know them from Tzu Chi. They are very good and experienced in culinary arts and are very kind to share a lot of recipes and tricks with me. I am glad to know them.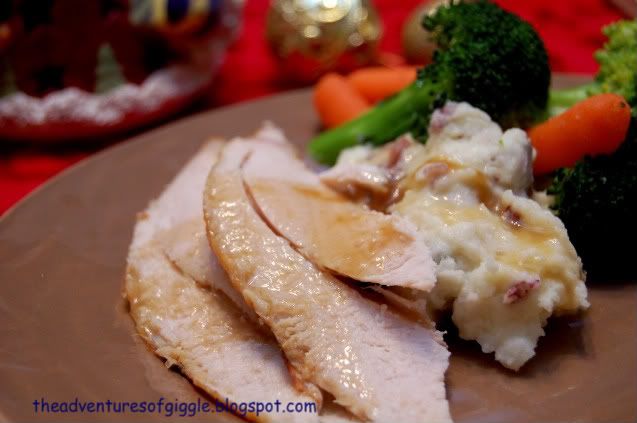 Here's the recipe and steps I would like to share. My first turkey turned out tender, juicy and delicious! Whew!!!! I would definitely cook this again in special occasion celebration.
A) 1 X 10lbs turkey
B) Marination :
1. 5tbsp salt (every 2 lbs = 1tbsp)
2. 1 tbsp fresh ground white pepper
3. 1/2tbsp corn pepper (crushed)
4. 1 inch ginger - crushed
5. 3 star anise
6. 6 greed onion - cut to approx. 3in strips
7. 5 quarts water (or enough to cover the whole turkey)
C) Vegetable base - any kind of vegetables you like. I used baby carrot, cabbage and sweet onion slices. You may add some celery strips too.
D) Some honey for glazing (optional)
E) Gravy - the gravy pack came with the turkey, I just added some dripping and bring to boil.
F) Serving with some boiled brocolli and baby carrot seasoned with some salt, garlic powder and parsley.
Steps :
1. Defrost the turkey according to the packing instruction.
2. In a non-stick pot, sauteed the salt, white pepper and corn pepper without oil over medium heat.
3. Pour in the water and the rest of the ingredients, bring to boil.
4. Remove the pot from heat and let it cool COMPLETELY. (I cooked the marination one day ahead before I start the marination process).
5. Slowly place the turkey into the marination water, make sure the turkey is completely soaked in the water.
6. Marinate in the fridge for 24 hours.
7. Remove the turkey from the fridge 2 hours before cooking. Discharge the water.
8. Preheat the oven at 350F.
9. Place your desired vegetable at the bottom of the pan.
10. Place the turkey, breast side up on the pan.
11. Cover with rather loose aluminum foil. Don't let it touch too much or it will stick. Or use a pan with a cover.
13. Bake at 350F for 2.5 hours, then 250 for 2.50 hours.
14. Scoop the dripping and pour over the turkey every 1 hour.
15. Glazing (optional) - remove the aluminum foil, brush with some honey, baked for another 30minues at 350F, un-covered. I think I will skip this steps in future, because it will dry out the turkey a bit. I did that just for better color for the photo presentation.