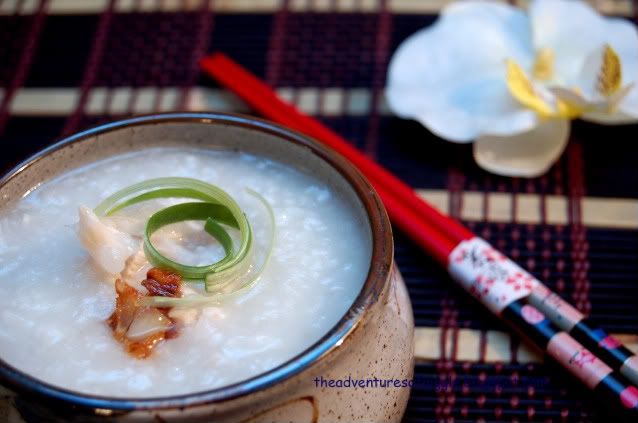 OK, this will be the last post for my marathon of turkey recipes.
I promised my blogger friend Traci Moo that I would post my porridge making process. I like Cantonese style porridge which is thick and smooth in texture. The trick to making it smooth is adding few drops of vegetable oil when you cook the porridge. I learned this from a friend of my whom came from Hong Kong. You may try this method in any kind of porridge cooking.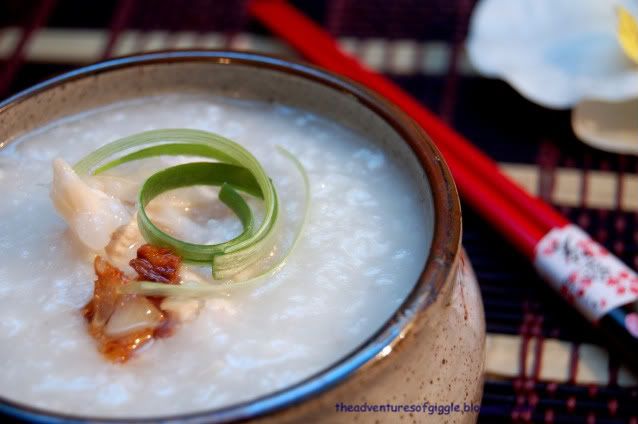 I cooked the porridge for 30 minutes first before adding other ingredients.
A) Porridge base
1. 1 cup rice - washed
2. 1.5 quart water (adjust according to personal preference)
3. few drops of vegetable oil
B)
- 1/2 inch ginger
- 800g turkey bones
- 2~3 cups shredded turkey meat
C) Seasoning
- salt and white pepper to taste
- serve with some garlic oil and sesame oil
D) Garnishing
- Green onion
Steps:
1. Bring ingredient A to boil and cook in slow heat for 30 minutes.
2. Add in turkey bones and ginger, cook for another 2 hours over slow heat.
3. Add in turkey meat 15 minutes before serving.
4. Season with.
5. When serving, add a dash of white pepper, some garlic oil and sesame oil. Garnish with some green onion.