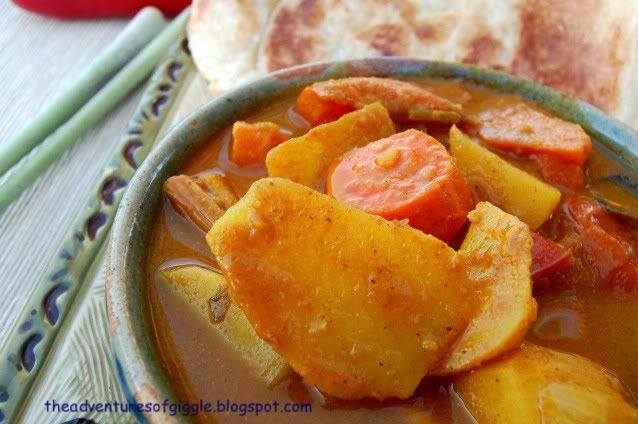 Isn't that nice to live in a food paradise? I didn't have to think about cooking prawn noodle, laksa, roti canai (Indian paratha) on my own in Penang - I could easily get it everywhere, and they simply tasted good!
Paruppu curry (Dhal) is usually served along with roti canai in Malaysia. I always asked the boss to give me more curry gravy, and I'd eat a spoonful of the curry with every bite of my roti canai. Yummeh!!!!

I found a frozen roti canai in Asian supermarket here, and guess what?? It is made in Malaysia - Penang, Gelutong (Yay!!!), it is "Memori" brand, I strongly recommend this brand to those living out of Malaysia. It tasted the best among from other brands. Crispy and not oily.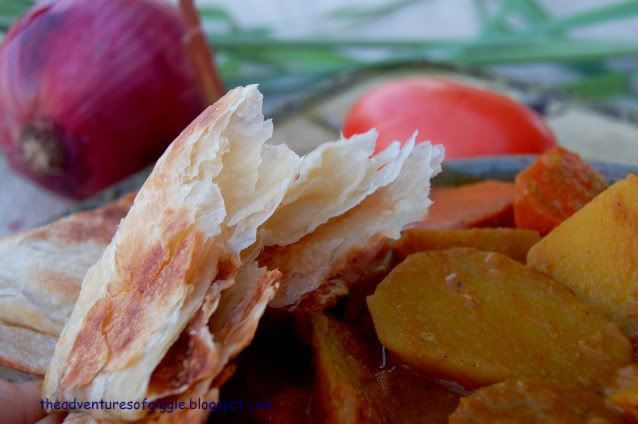 Crispy layers of "Memori" brand roti canai.
Now I got the roti canai, but it wouldn't taste right without paruppu. The instant dhal I got from the store is the thicken version, I like a bit runny one better. So, what did I do?? It is time consuming to tenderize the dhal (the yellow split peas). So I invented a short cut version! LOL!!!

Tahdaaaah..... I cook a pot of curry potato, then mix with a pack of dhal, the gravy tasted exactly the same like the one sold at mamak stall! yay me!! yay me!!! hahahah

Here's my recipe for the curry, I cook this to serve homeless people too while I was volunteering at Tzu Chi, it is meatless meal.
1. 1tbsp garam masala (optional) - I added it for spicier and stronger taste.
2. 4 tbsp curry powder
3. 1 tbsp turmeric powder
4. 2~3 tbsp corn/vegetable oil
5. 1 large onion - squared or sliced
6. 1 stalk lemon grass
(editor's note: This stuff, along with pumpkins, yam leaf plants, and winter mellons, are taking over the back yard!)
7. 8~10 curry leaves or as needed
8. 2 medium size potato (approx. 350g) - chunked
9. 1 large carrot (approx. 120g) - chunked
10. 3~4 tomatoes (approx 200g) - chunked ** add some tomato puree/sauce if you like it sour**
11. 450~500ml water
12. 1 pack of instant Dhal (Dal)
13. 30 ml coconut milk
14. Some sugar to taste
15 Some salt to taste.
Steps.
1. Mix ingredient # 1~#3 with 1/2 cup of water.
2. Grease a heated non-stick pot with oil.
3. Fragrant the onion (about 2~3 minutes)
4. Add in curry mixture # 1, lemon grass and curry leaves, stir and fragrant for about 3~5 minutes.
5. Add tomato, carrot and potato chunks, stir fry for about 3 minutes, sprinkle water if necessary.
6. Pour in water just enough to cover 90% of the potato, carrot and tomato chunks.
7. Bring to boil, simmer at low medium heat for 20 minutes.
8. Add instant dhal, tomato puree/sauce (if you like it sour) stir to mix well, simmer for another 10 minutes.
9. Add coconut milk, sugar and salt to taste. Bring to boil and remove from heat.
10. Serve with rice, noodle or roti canai.
The instant dhal (dal)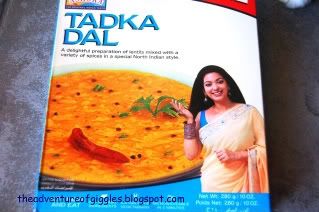 "Memori" brand roti canai, made in Penang, Malaysia. Highly reconmended