I really love the fresh baking aroma from the oven spreading in my house. Plus a cup of fresh brewed coffee, oh gosh!! Just like being in the heaven! lol!!
I am a bit picky about the shape of my bread. I don't like the shape of the bread pan that came with my bread machine. Tom helped me to get a new square bread pan with lid from Amazon
(editor's note: This is called a "Pullman Loaf Pan." You buy a slide-on lid to make the square "sandwich bread" loaves)
. Its weird, we had to order it online, we couldn't find it from the major supermarket or retailer stores here.
There are so many bread recipes out there. I am still new to bread making, so for safety, I started with a very basic white bread recipe
(editor's note: This is technically called "pain de mie")
. It turned out great! Cottony soft inside. I am glad that I have everything for a fresh and healthy homemade bread now. I was really concerned about consuming too much bread improver - a common ingredient for those bakery shop to make nicer looking or texture bread/bun. I don't have worry too much about this now. yay!!!
Here's my recipe I would like to share, it is really simple for a new bread baker. Try it out! :-)
(editor's note: Best "white bread" ever! Can't wait for raisin bread!!!)
For a 4" X 4" X 13" Bread Pan
1. 350~360ml fresh warm milk (100~110F) - volume is to be adjusted according to the moisture of the dough.
2. 1tbsp sugar
3. 1 pack (7g or 21/4tsp) active dry yeast
4. 40g butter - melted (I will add up to 60g in my next attempt as I like the taste of butter a lot)
5. 1 .5 tsp salt
6. 510g all purpose flour
For bread machine baker


1. Pour the warm milk in the pan, dissolve sugar and yeast in warm milk. Let is rest for 5 minutes.




2. Add in flour and salt, select dough function and press start.




3. Add in butter after 4 minutes of mixing.




4. I shorten the mixing and kneading process, I just let the machine run for 25 minutes.




5. After 25 minutes, turn off the power. You may rise the dough in the machine or remove it to a lightly greased bowl, cover with plastic film and rise for 1 hour in warm (85F) place or doubled in size.




6. Punch the dough down with your fist, divide to 3 or 4 portions. Let them rise for 10 minutes.




7. With a rolling pin, flatten the dough to approx. 4" wide, 12" long, roll it from short side like a swiss roll, place it in the bread pan. Repeat the same to the rest of doughs.




8. Cover with plastic film, let it rise for another 45~60 minutes, or until it is 90% up the way to the top of the pan.




8. Bake with lid on at preheated oven (350F) for 35~38 minutes.




9. Once its done baking, remove the bread from the pan immediately and cool it on a wire rack.



For hand kneading baker
1. Dissolve sugar and yeast in warm milk in a large mixing bowl, let it rest for 10 minutes.
2. Add butter and flour into yeast mixture, stir until well it form a dough. Turn dough out to a floured surface.
3. Knead until smooth and elastic (about 10~15 minutes)
4. The rest of the steps will be same as machine baker #5~#9.

Ready to bake!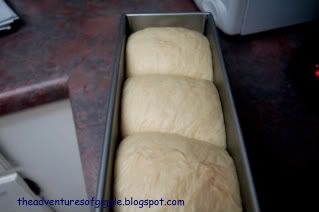 Fresh from the oven!