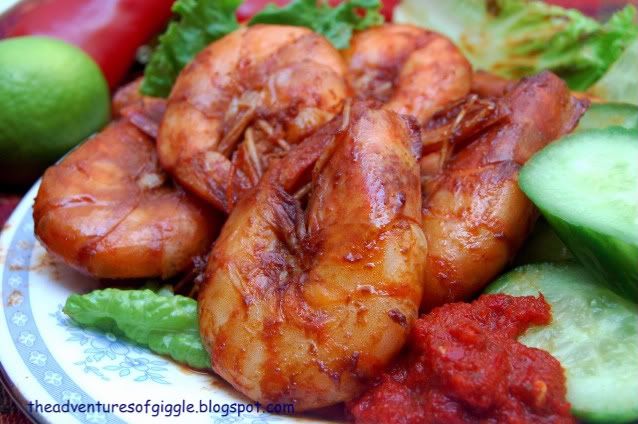 I can easily finish a whole plate of asam prawn with sambal belacan condiment. No kidding, if I'm not worried about the high cholesterol, I will cook this meal a lot.
I like to eat at home, I like the feeling of our family having meals together even though it may be just a very simple home cooked meal. It is not about the food, it is all about the feeling of a family being able to gather together. Back when I was kid, my parents were so busy on their noodle stall, they operated the business in the morning and night in order to keep us well fed and educated. That was a hard time. Sometime, my mom would just cook a big pot of rice, then serve everyone with a piece of over easy egg, seasoned with few drops of soy sauce and sesame oil. Simple enough, but I love the taste. Even now, I will still make this for my lunch box for work sometimes.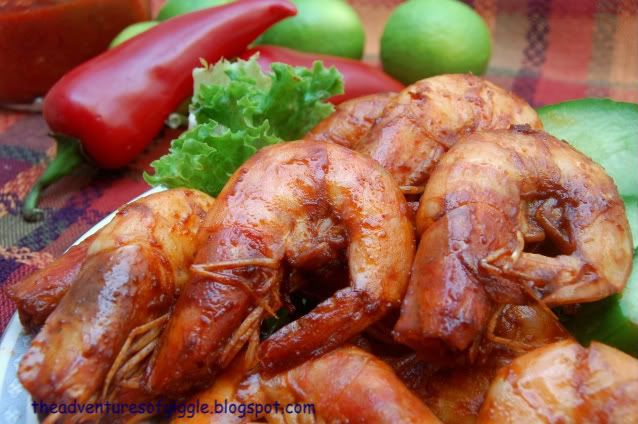 Prawn meal was not always available back then as we couldn't afford it. So, when my mom cooked this asam prawn, we would count how many prawn were in the plate and split it equally between us. LOL!!! This is one of my childhood memories.
Here's the recipe for the pan fried asam prawn.
A)
1. 350g prawn - trimmed and de-veined
B) Marinate sauce
1. 20~25g asam paste
2. 2~3 tbsp of water
3. 1/8tsp of sugar or to taste
4. 1 tsp soy sauce or to taste
5. 1 tsp oyster sauce
6. 1/2 dark soy sauce for cooking (optional)
Steps :
1. Mixed the marination ingredients #1~#5 in a container.
2. Rub in fresh prawns, marinate for at least 3 hours or longer for better flavor. Refrigerate.
3. Grease a heated frying pan, add in prawns. Keep the asam marination for later use.
4. Pan fry the prawn until they turn in pink color.
5. Add in dark soy sauce (optional)
6. Pour in the asam marination and continue to cook until its almost dry out.
7. Serve with sambal belacan condiment.