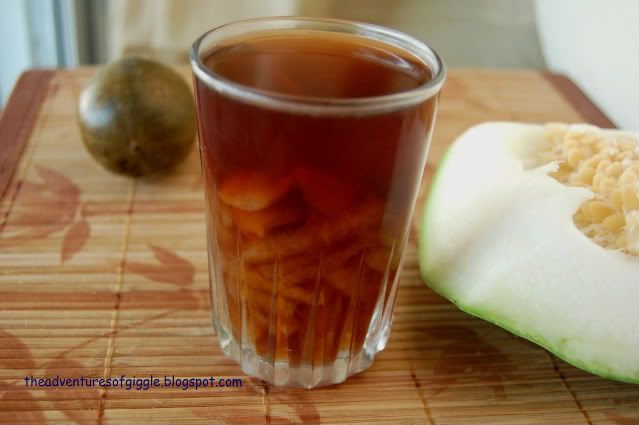 HOT!!! HOT!!! HOT!!!!!45C !!!
Tom was working outdoor to fix the house during the weekend. Even though he drank a lot of water, I still worry about the heat. I made this tea to prevent him from getting heatstroke. I believe Luo Han Guo beverage is not strange to any Malaysian. You can easily get it from any coffee shop, food court or road side stall.
Luo Han Guo (Siraitia grosvenorii) is commonly used for medicinal purposes and as a sweetener. It is normally available in dried form. It's nature is cool and not toxic. The fruit can act as a remedy for heat stroke, wet the lungs, remove
phlegm
, stop cough and aid defecation. - source from
wikipedia
.
It is actually very cheap if you make this heat relief beverage by yourself.
Recipe and steps :
1. 1 Luo Han Guo (place in a cheese cloth, tie up, and crushed)
2. 500g winter melon, cut thin to 2" length strips
3. 1500ML water
4. 1tbsp brown sugar
5. 20g~25g rock sugar (can skip or add as desired because Luo Han Guo itself is sweet)
6. 20g dried longan (can skip it or try not to use much as it will bring up " internal heat" of your body)
Steps :
1. Boil the water, add in Luo Han Guo (wrapped in cheese cloth) and winter melon.
2. Bring to boil again then simmer over low heat for 20~30 minutes.
3. Scoop out the winter melon strip to a bowl with a small strainer, immediately add in brown sugar over winter melon, lightly stir to well absorb, let it marinate and set aside.
4. Add in dried longan, and cook for another 10~15minutes.
5. Add in rock sugar, stir until it is melted.
6. Switch off the heat.
7. Scoop a spoonful winter melon in your glass and pour the tea. Can be served warm or cold (fridge it when it is cooled).
Take care and stay cool my friends!!