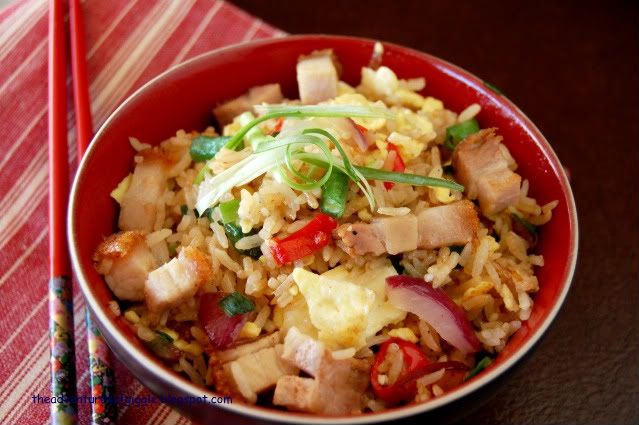 It is very common in Malaysian Taoist worship to offer roasted pork to the God for special occasions. Whenever there is an special occasion, there is always lot of leftover roasted pork, chicken or duck for my family. I love to use the leftover pork to make some fried rice with chili padi, the spiciness of the added chili really gives the taste a "kick".
I bought some roasted pork from Lee Lee yesterday, mainly just want to make this dish that I have been craving for so much!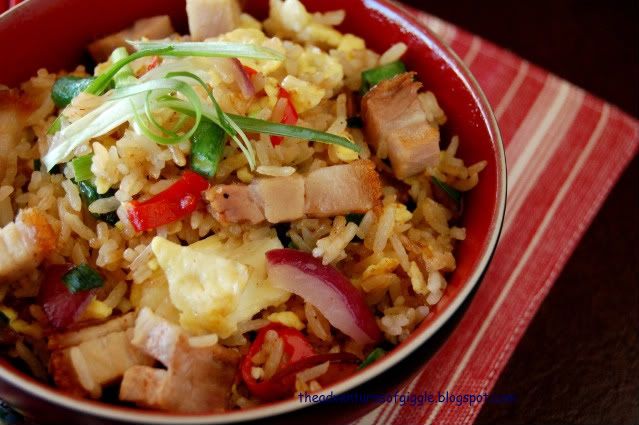 You don't need to put so much effort for the seasoning, the taste of the roasted pork itself is already good enough to make you drool.
Recipe for 2 servings :
1. 2 eggs mix with a spoon of fresh milk - beaten.
2. 50g purple shallot - chopped or sliced
3. 3~4 chopped chili padi (or as desired)
4. 1.5 bowl cooked rice - cooled completely or overnight rice
5. 130g roasted pork chunks
6. some green bean or long bean cubed (optional)
7. Some green onion for garnishing
Seasoning :-
1. 1~2 tsp soy sauce
2. 1tsp oyster sauce
3. A dash of white pepper powder
Steps :
1. Make scrambled egg and set aside.
2. Fragrance the shallot in a greased heated pan.
3. Add in chili and rice, soy sauce and oyster sauce. Stir to mix well.
4. Add in roasted pork chunks, long bean cubes and scrambled egg. Continue to fry for approx. 3~4 minutes. Sprinkle some water if necessary
4. Shake in a dash of white pepper powder, garnish with some green onion, dish out and serve warm.