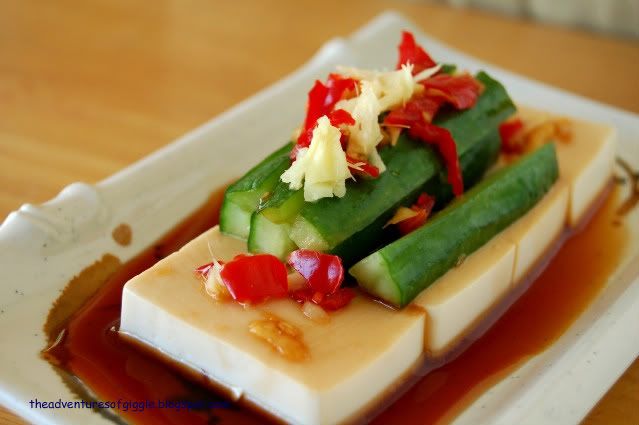 It is 45C outside, and it will continue for another 3 days....I think I will be half cooked if letting me standing outside for 10 minutes. Lucky I can work from home today. Tired about meaty meal? Lets try some simple low carb vegetarian dish. It is very simple and refreshing.
1. 1 Persian cucumber (aaprox. 160g) - unseeded, cut to strips, marinate with a dash of salt and few drop of lime juice, chilled.
2. 220g Soft/Silken Tofu - cut to aprox. 1/2" thick slices, cook in a pot of boiled water for 2~3 minutes. Drained and cooled.
3. 1/3" inch of ginger - chopped
4. 1/2 red chili - chopped
5. Seasoning sauce - mix the following ingredients in a small mixing bowl.
i) 1~2 tsp soy sauce
ii) 2 tsp drinking water
iii) 1/2 tsp sesame oil
6. Garnish with some cilantro (optional)
Assembly
1. Arrange Tofu slices and cucumber strips on a plate.
2. Mix ginger and chili into sauce # 5, then pour on top of the cucumber strips!
3. Garnish with some cilantro (optional)
ENJOY!!! and STAY COOL!... :-)