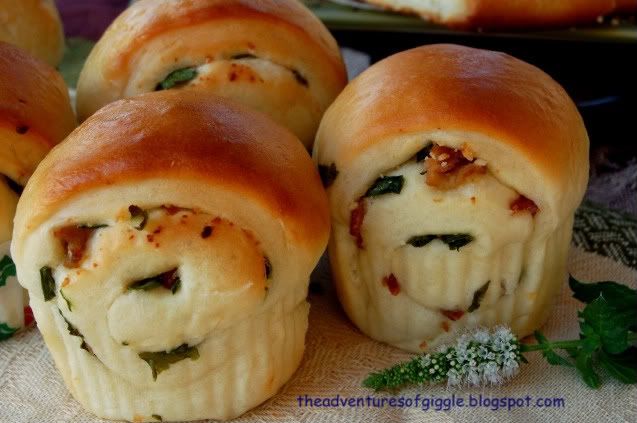 You really need to try this out, soft and yummy!!
I wanted to bake some bread a long time ago, but always gave up because afraid of the kneading process. It is really time consuming. I will get a bread maker one day!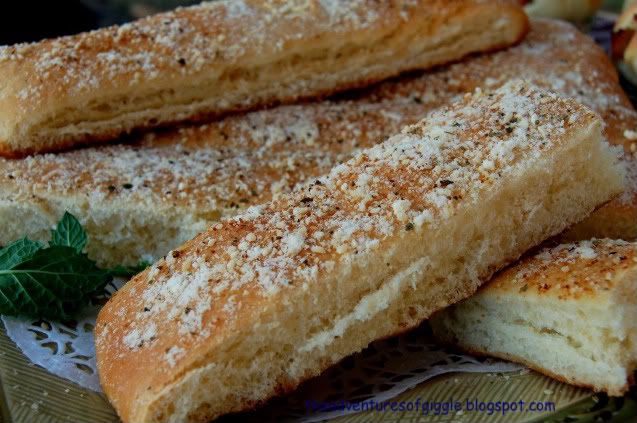 Parmesan Oregano Bread Stick
It is summer time, which is good temperature to let the bread rise. Today I felt in a good mood to bake some bread, so I quickly gathered all the ingredients and started to work on it.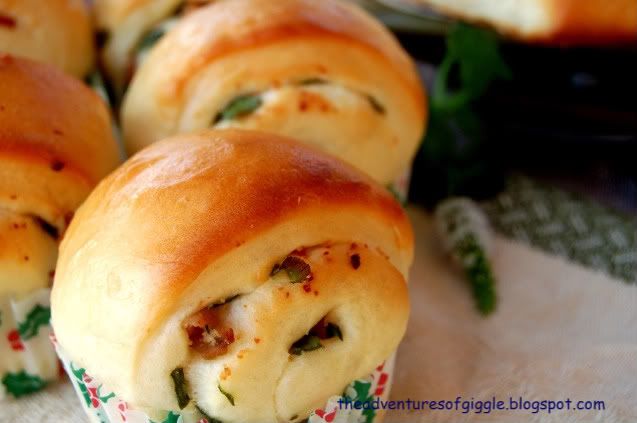 This time, I used a different recipe. I split the dough for bacon onion roll and Parmesan oregano bread sticks - both turned out great, soft and yummy. Just feel like eating Pizza Hut or Dominos bread stick, love it!!!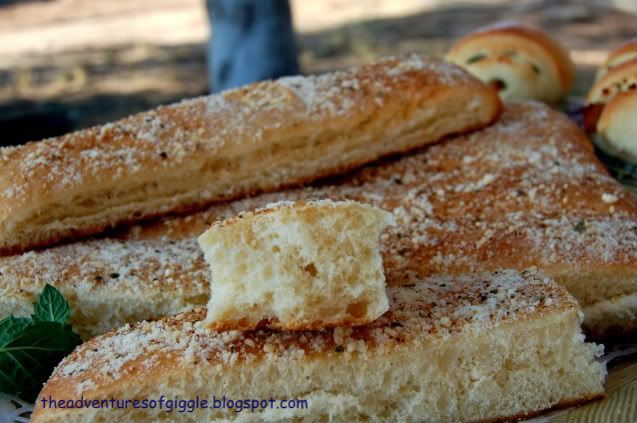 Dough recipe :
A)
1. 150g all purpose flour
2. 450g bread flour
3. 20g low fat powder milk
4. 70g sugar
5. 10g salt
6. 4 tsp yeast
7. 300ml water
8. 1 egg
B)
1. 60g unsalted butter
Method :

1. Mix all the ingredients in A in a large mixing bowl. Use your hand to form a lumpy dough.
2. Turn the lumpy dough to your work surface and start to knead.
3. Knead until the dough is smooth and not grainy nor rough. It should feel smooth in your hands. It takes about 15 minutes or longer, depending how you knead it.
4. When the dough is satin smooth, add in the butter. Knead it well to let the butter incorporate fully into the dough.
5. Knead until it is non sticky (30 mins).
6. Stretch a little of the dough, it should not tear off easily and it feels like stretching a thin layer and looks translucent against the light.
7. Once the texture is reached, form it into a ball, leave it in a large greased stainless steel bowl cover with plastic wrap.
8. Put it in a warm place and proof for about an hour or a little more. It should double or triple in size.
9. Remove the dough, punch down to deflate gas inside.
10. Divide it into 2 balls. Let it rest for a further 10 minutes in the bowl, covered.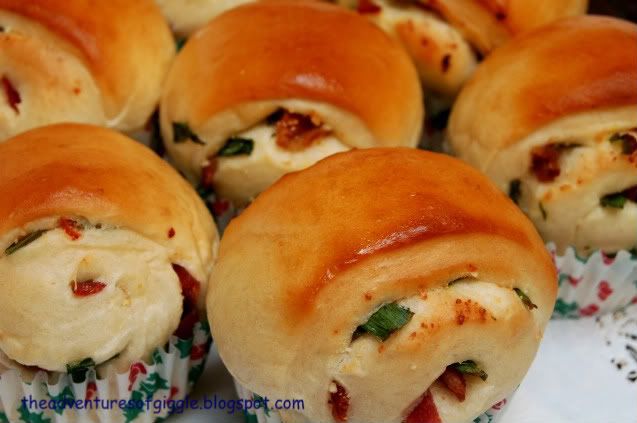 For Onion Bacon Roll
- 1/3 cup chopped onion
- 4 slices cooked bacon - crumbed
- some oregano flakes
- some garlic powder
- some salt
- some black pepper
- some parmesan cheese
>> mix all ingredients except parmesan cheese<< - egg white mix with some fresh milk for brushing. 1. Roll the dough into a rectangle piece, sprinkle the onion bacon mixture in the center part. 2. Sprinkle some parmesan cheese on top of it. 3. Roll it up like a swiss roll and fold down the two ends below. 4. Rest for another 45 minutes, cover with plastic wrap. 5. Brush the egg white mixture on top of them. 6. Bake for 12 minutes at Preheated the oven at 325F. Then turn to 350F to brown the surface for 2 minutes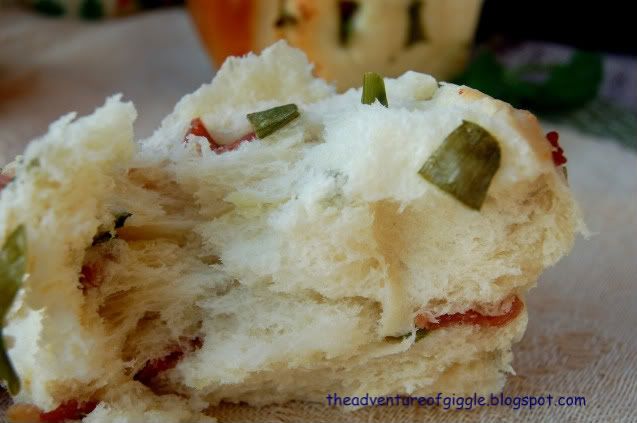 Texture of the roll
For Parmesan Oregano bread stick
- butter
- some oregano flakes
- garlic powder
- parmesan cheese
- salt




1. Roll the dough into a rectangle piece (about 1/3" thick,will rise thicker later).
2. Use the pizza cutter to cut 1.5" strips (widthwise)
3.
Rest for another 45 minutes, cover with plastic wrap.
4. Brush some butter on the surface.
5. Sprinkle oregano flakes, garlic powder, pinch of salt, parmesan cheese on top of it.
6. Bake for 13 minutes in preheated oven at 325F, turn to 350F for 2 minutes to brown the surface.