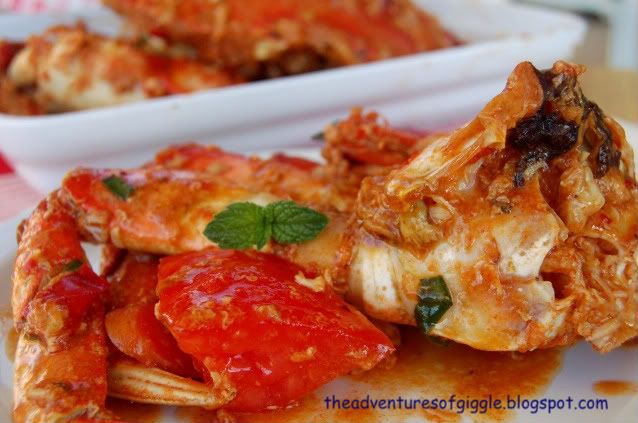 Last week end was my seafood assignment. I made a couple of seafood meals. This would not happen always here in Arizona because the live and fresh seafood here is expensive. We couldn't afford to have seafood meal everyday.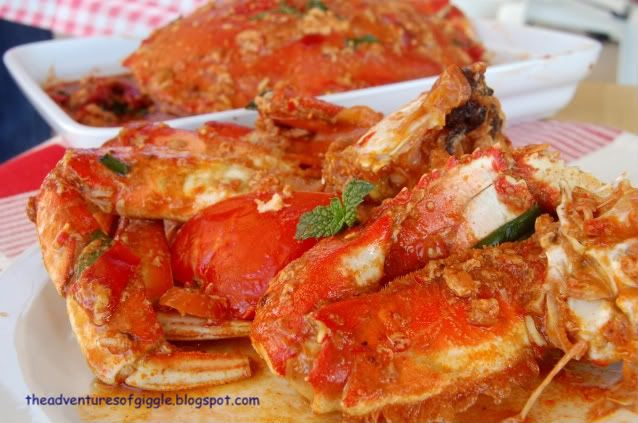 When I decided to start my seafood adventure, we went to Lee Lee to grab some necessary ingredients. We bought a huge Canada (Dungeness) live crab from the tank, it was about 3lbs, cost us USD$25... ouch!! >_< !!!! But...., sometime, we have to pamper ourselves for a good meal after being working so hard, right???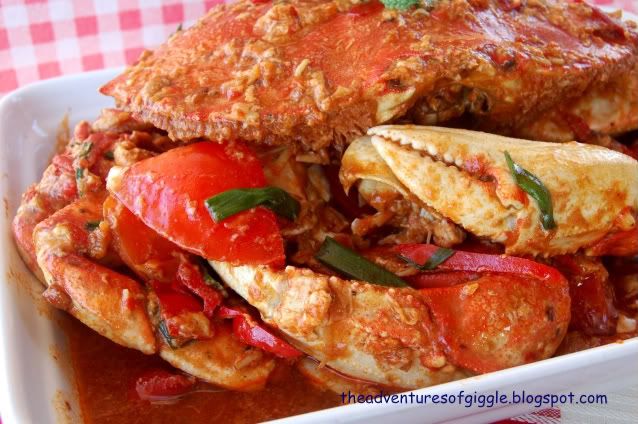 When we got home, I felt so sorry had to fix the live crab. Of cause, you might query why didn't Tom help? Oh well, I think he would just pass out if I ask him to do so. He is a good man, would safe what ever animal he could from being hurt.
(editors note: I was raised on a farm, silly! I've raised steers and lambs for slaughter. I'd have no problem dispatching this... sea monster! LOL! -Tom :-P )
OK, here's the recipe for what I normally cook for my family when I was in Penang.
1. 1 Canada Crab (3lbs).
2. 3 Red chilies (unseeded), pound with 2 cloves of garlic.
3. 6~8 thin sliced fresh ginger.
4. 3 cloves of garlic - chopped.
5. 1 medium size tomato - cut to 4~6 chunks.
6. Some carrot slices (optional).
7. 1 tsp oyster sauce.
8. 2~3 tbsp sweet chili sauce or as needed.
9. 2 tbsp tomato ketchup.
10. 100~150ml water.
11. Pinch of Sugar or to taste.
11. Salt to taste.
12. 1 tbsp corn starch mix with 1 tbsp water.
13. 2 egg whites.
14. Some red chili slices and green onion for garnishing.
Steps :
1. In high heat, heat and grease a frying pan.
2. Fragrant the garlic and ginger slices. Stir in the pounded chili and garlic.
3. Add in tomato chunks and carrot slices, stir for few seconds.
4. Add in crab, and ingredient # 7~9.
5. Stir and cook for about 1 minute.
6. Add some water and cover with lid. Cook over medium high heat for 2~3 minutes.
7. Uncover, switch to high heat. Add some more water if more gravy is desired, cook for another 2~3 minutes.
8. Add Sugar and salt to taste.
9. Add some corn starch water to thicken the gravy.
10. Add in egg white, wait for 3 seconds, stir and remove from heat.
11. Serve warm, gravy is perfect to mix with the white rice.
ENJOY!