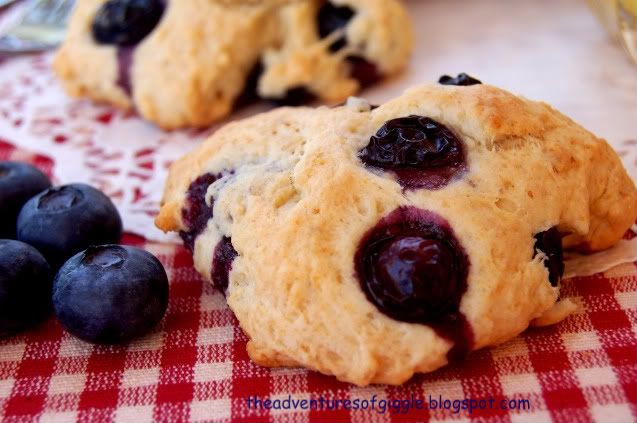 Want something different for Sunday breakfast or high tea? Here's blueberry scones!!
Normally, I don't have to worry about what to eat for breakfast, Tom will fix it for us, bacon, omelet, over easy egg, muffins, orange.. etc. I have no complaint about that, he is our breakfast guy. LOL!!
Of course, I will make something different once a while, like
Onion Bacon Quiche
,
banana muffins
,
bacon onion rol
l, and here they are - blueberry scones. They are best served with any fruit jam (I preferred mixed berry - I will post my home made mixed berry jam later), butter and honey!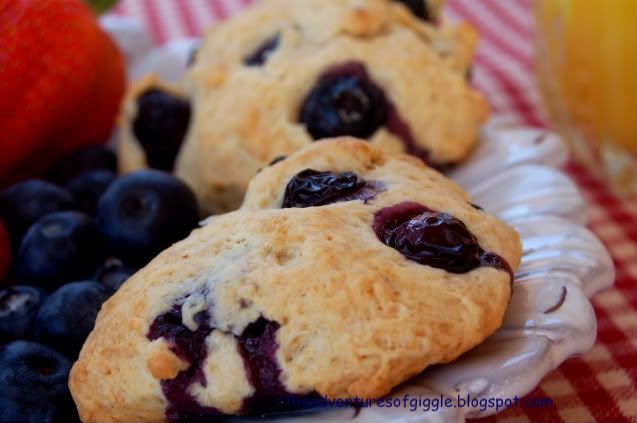 It is a very simple and fast baking. Here's my recipe and steps, ENJOY!
Ingredients :
1. 1/2 stick frozen unsalted butter - coarsely grated (should be approx. 1/4cup) - keep in refrigerator until needed.
2. 1 cup all purpose flour
3. 1/2 tsp baking powder
4. 1/8 tsp baking soda
5. 1/4 cup brown sugar
6. 1/8 tsp salt
7. 1/4 cup sour cream (can substitute with 3 tbsp butter milk if sour cream is not available)
8. 1 egg
9. 2/3 cup fresh blueberry (or as needed) - if using frozen blueberry - DO NOT defrost.
Steps :
1. Preheat the oven to 400F.
2. Sieve the flour, baking powder and baking soda together.
3. Add sugar, salt and butter into the flour mixture, toss with folk to form fine crumbs or rub with your fingers.
4. In a separate bowl, whisk together the egg and sour cream/butter milk.
5. Fold in egg mixture into the crumbs with a rubber spatula.
6. Turn the dough on a floured surface, knead it very lightly for 15 seconds until it is well combined - DO NOT over knead. (The dough should be soft and moist).
7. Add in blueberries, lightly rub into the dough to mix well.
8. Divide the dough to 8~10 portion. lightly flatten it with your fingers.
9. Place them on a un-greased baking sheet.
10. Bake on the middle rack in the preheated oven for 15~17 minutes.
11. Serve warm with any fruit jam or butter.