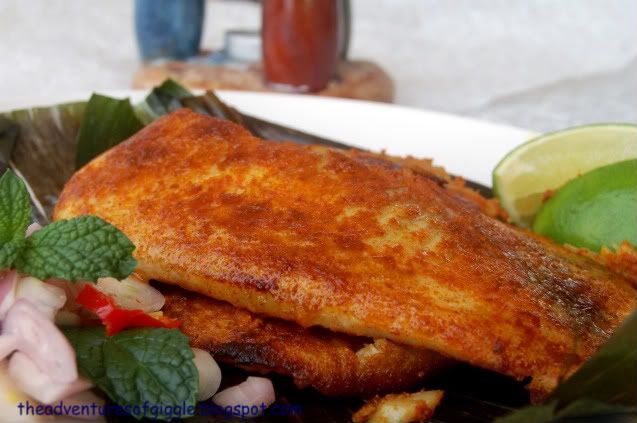 After I finished the the
Sweet and Sour Chili Crab
, here comes the fish.
If I were in Penang, I would make this with Kembong fish or stingray. It is impossible to get kembong here, and stingray is frozen, so it wouldn't taste nice if you compare it with the fresh fish available in Malaysia.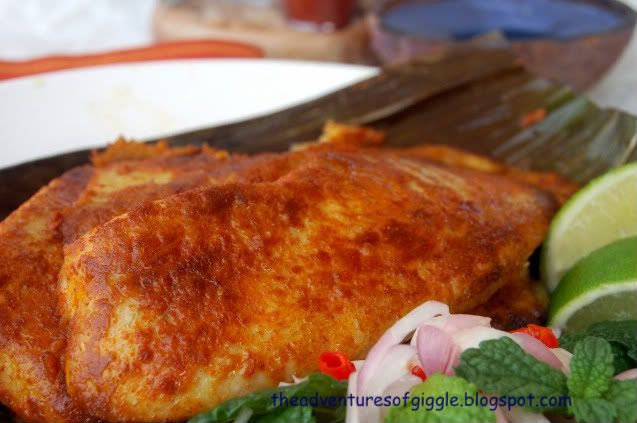 I got 2 tilapia fillets from Albertson's, since they were on sale. I should have bought more - two were not enough for both of us.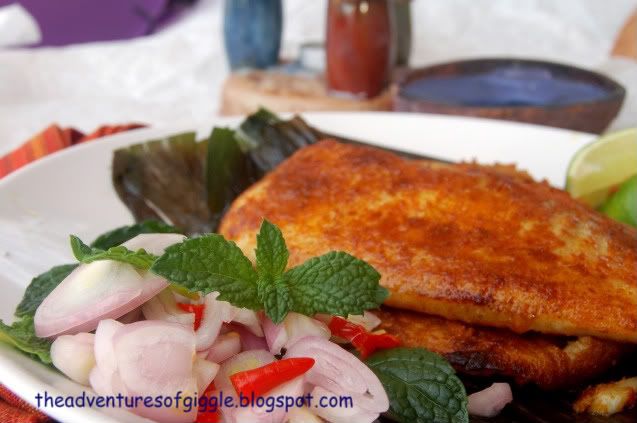 I pan fried the fish with banana leaf in between the pan and fish, it helps to keep the juice of the fish. I served it with the refreshing mint pepper salsa, it was like having a ikan bakar in Penang. :-p
Ingredients & Steps :
A ) Fish
1. 2 tilapia fillets - rub with 2tsp of curry powder and 1/8tsp salt. Marinate at least 3 hours or overnight for better flavor.
2. 2 sheets of banana leaves (about 8" x8")
3. 1 tbsp cooking oil
B) Mint Pepper salsa
1. 10 mint leaves or as needed
2. 5~6 pearl onions - sliced
3. 3 chili padi (chopped) or 1 habanero
4. 1/2 tsp fresh lime juice or as needed
5. Pinch of sugar and salt to taste
- Mix all ingredients B and refrigerate at least 1 hour before serve.
To cook the fish :
1. Heat up a large skillet, grease with a table spoon of oil.
2. Place a sheet of banana leaf on the skillet, then lay the fish fillets on top of it.
3. Cook for 3~3.5 minutes for each side with the cover on.
4. Turn and change the banana once.
5. Serve with mint pepper salsa B as above.