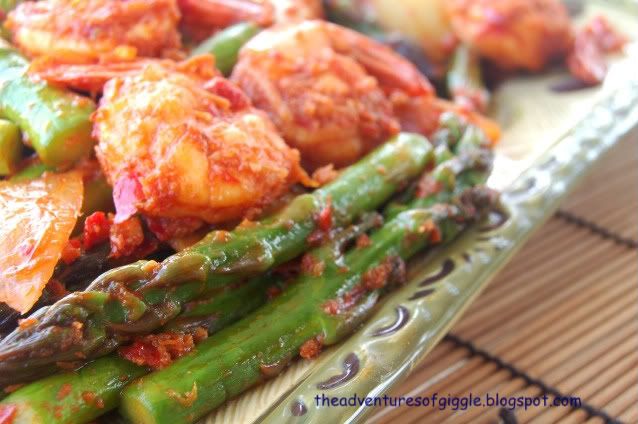 Another common dish in the "chu char" and seafood restaurants in Malaysia. I was convinced that asparagus is only good when used in stir fry with sambal prawn.
The western restaurants here normally serve grilled asparagus. When I first came to US, I was hesitant to try it as I didn't know how asparagus tasted without chili. When I volunteered at Tzu Chi, I got the chance to know that it can be cooked together with egg too. They actually taste good off the grill or stir fried with scrambled egg.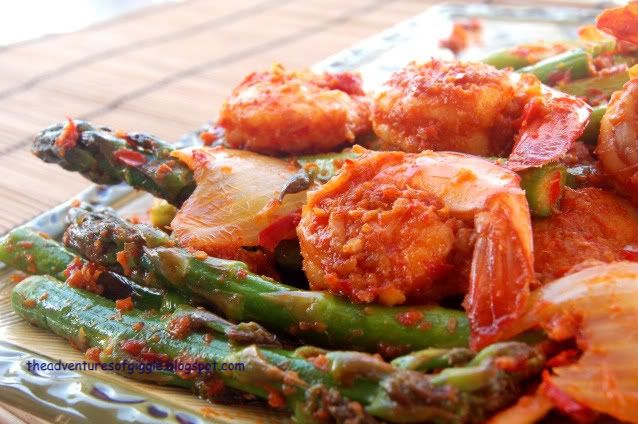 However, I like is stir fry asparagus with sample prawn most. I never cooked this in US before I brought my
bullet blender
(US version in this link - we got the one in from Malaysia with the juice attachment you can't get in the US, but it is almost the same) from Malaysia, because I was too lazy to pound the chili and the blender I got from the shop here does not cater to smaller capacity.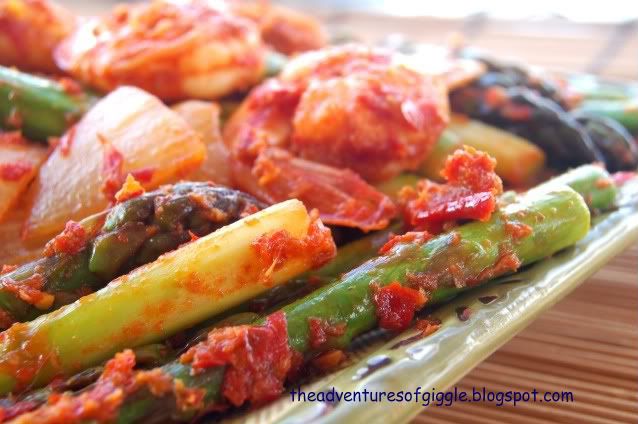 Tom is now doing better to handle belacan now! LOL!
Here's my recipe :
1. 350g tender asparagus - cut to approx. 3~4" strips.
2. 200g prawn - peeled and de-veined.
3. 1/2 medium size onion - sliced or cubed.
4. 1 tbsp vegetable/corn oil.
5. 2~3 tbsp water
6. Pinch of salt (optional - may not need it as the saltiness of the dried shrimp might good enough for seasoning)
7. Sambal - pound or blend together the following ingredients :
a) 5~6 red finger chilies - unseeded
b) 1.5~2 tbsp dried shrimp - washed and rinsed.
c) 2 cloves of garlic
d) 1 tsp prefried belacan
Steps :
1. In high heat, grease the pan with vegetable oil.
2. Add in onion, stir for few second, add sambal # 6, stir and cook for about 1 minutes.
3. Add prawn, cook for 30 seconds.
4. Stir in asparagus strips, cook for 4~5 minutes. Sprinkle some water if it is too dry.
5. Salt to taste (optional)
6. Serve warm with white rice.