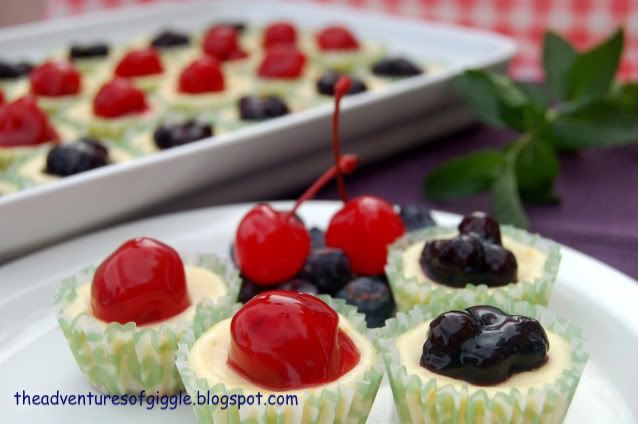 I have posted this recipe before, but the photo was not so presentable because I didn't know that I would start my own blog at the time the photo was taken.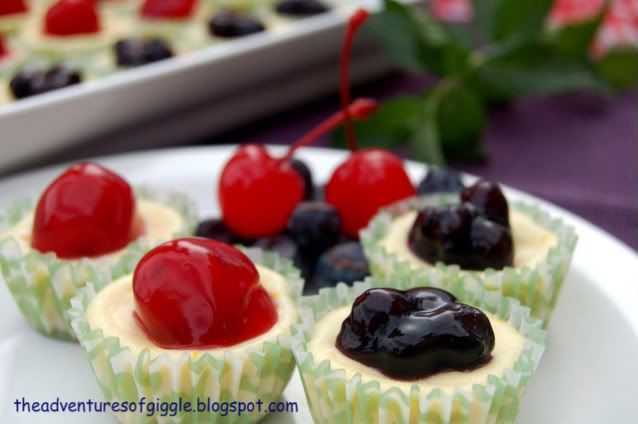 I made these cheese cakes for a friends gathering dinner again yesterday, so I took some nicer pictures before they all got eaten.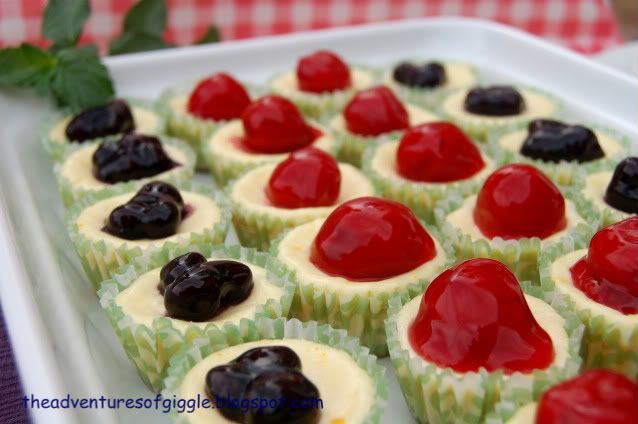 I like to make this for parties because it is very simple, fast and presentable. Here's the recipe again.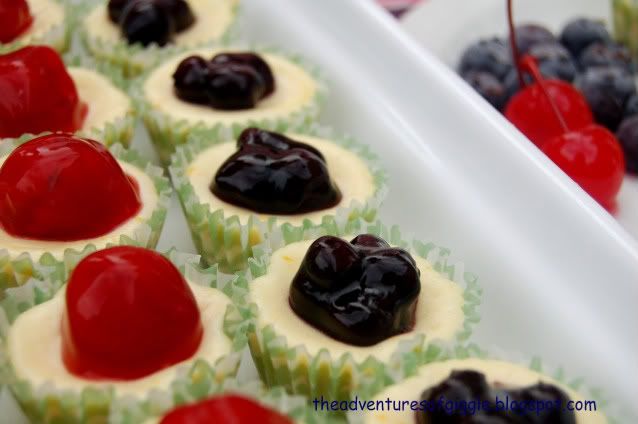 A) Crust base
1. 40~45pcs of bite size (about 1 inch diameter) NILLA wafers (mini vanilla wafers) or any kind of mini digestive cookies (as long as it can fit into your baking cup/tray.)
B) Cream Mixture
1. 2 packs of 8oz Cream Cheese (room temperature)
2. 2/3 cup sugar (reduced)
3. 2 eggs
4. 1 tsp lime or lemon juice
5. 1 tsp vanilla extract
6. 1 tsp orange zest (outer orange peel, grated VERY fine - optional, I like it because with a little bit orange flavor in it, you won't feel too creamy to eat)
C) Topping
1. Blue Berry, Cherry Pie Filling.
Steps :
1. Preheat the oven at 325F.
2. Mix the cream cheese, sugar and egg with an electric mixer until well blended.
3. Add lemon juice, vanilla extract and orange zest into the cream mixture, mix well.
4. Place the mini paper baking cup in the mini muffin tray (24pcs per tray), lay each of them with a piece of wafer.
5. Spoon the cream mixture into each baking cup (not too full)
6. Bake for 15 minutes.
7. Remove the tray from the oven, cool at room temperature for an hour or two, refrigerate at least 6 hours, better if overnight.
8. Top with your preferred fruit topping and serve cool.