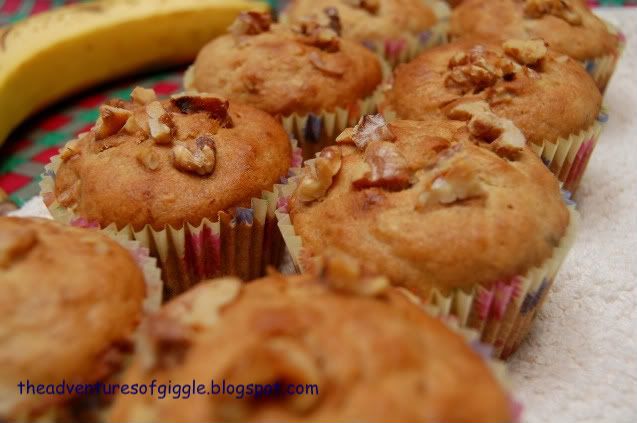 Banana again!! LOL! No doubt, they are easily loved by most of us. Bread, pudding, smoothie, cake and now muffins. yum! yum!
I don't have much time to bake recently, a simple and quick baking recipe is really what I need, so, here they are! :-)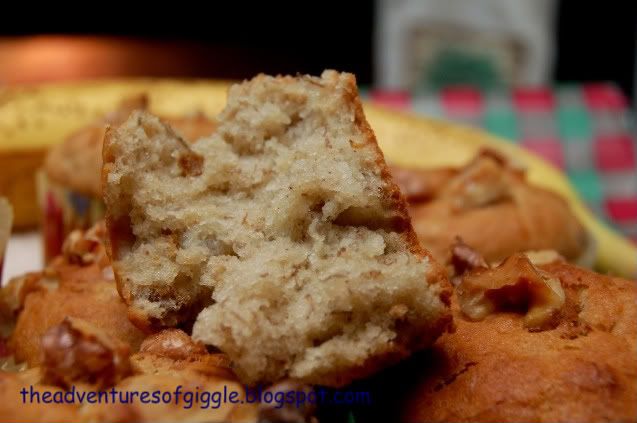 Ingredients and steps :
1. 1 cup walnuts - baked at 350F for 4~5 minutes and coarsely chopped
2. 6 ripe bananas - mashed with fork
3. 2 cups all purpose flour
4. 1/2 cup sugar
5. 1/2 tsp baking soda
6. 1 tsp baking powder
7. 1/4 salt
8. 1 stick (113g) unsalted butter - melted
9. 2 eggs (lightly beaten)
10. 1 tsp vanilla extract
Steps :
1. Preheat the oven at 375F.
2. Line the muffin cups on the baking tray.
3. In a large mixing bowl, mix together sugar, mashed banana, butter, eggs and vanilla extract, lightly stir until well combined.
4. Sieve the flour, baking powder, baking soda and salt into banana mixture, gently fold it to mix well.
5. Scoop the batter into each muffin cup, top with some walnuts.
7. Bake for 30 minutes.