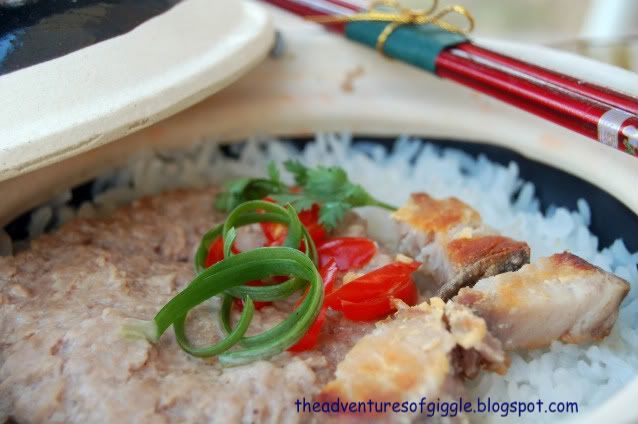 There are a lot of Clay pot Chicken Rice recipes out there. I will post my version some day. I came up with the Salty Fish with Meat Patty flavor first.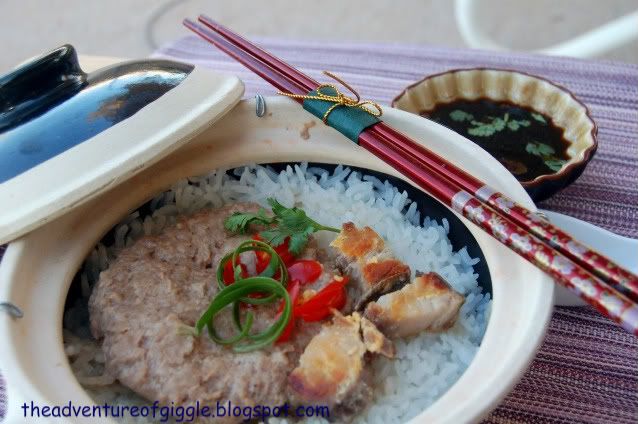 I had this dish in a Hong Kong style express restaurant here few weeks ago. It tasted good, but it came with just few little pieces of salty fish. Hence, I decided to make my own version with a lot of salty fish in it. LOL!!! Like many Asian people, I couldn't resist the wonderful taste of salty fish. For western people, it may smells horrible for them. Once, I had Tom to help me pan frying the salty fish on the outdoor stove, he came back and asked me a very cute question " Honey, are you sure this can be eaten??" LOL... Anyway, he is doing better now, just not too much salty fish for him.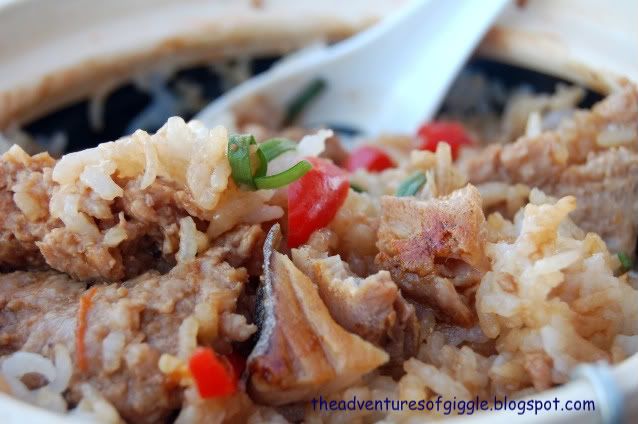 The rice after it's been mixed with the sauce!! See the big chunk of salty fish?? Yum yum!!
This recipe is for 1 small clay pot rice.
A)Rice
1. 1/2 cup of rice - wash and soak for 1 hour before cook.
B) Meat Patty
1. 75g lean ground pork
2. 1 clove garlic - mined
3. Some garlic oil and sesame oil
4. Few dashes of ground white pepper
5. 1/4 tsp soy sauce
6. 1/4 tsp oyster sauce
6. 1/4 tsp corn starch
C) Few chunks of pan fried salty fish
D) Sauce
Mix all the ingredients D below on the stove or microwave.
1) 1/2 tsp soy sauce
2)1/4 tsp oyster sauce
3) 1/4 tsp dark soy sauce
4) 3 tsp of water
5) A pinch of sugar
6) Some garlic oil and sesame oil
F)
Some cilantro, green onion and red chili slices for garnishing.
Steps :
1. Mix ingredient B together, use a fork to form a 1/3" thick patty.
2. In a small clay pot, cook the pre-soaked rice with 1/2 cup of water, bring to boil (about 3~4 minutes), simmer with cover on at medium low heat for about 3 minutes.
3. Place the meat patty on top of the rice
4. Cover and simmer for another 4~5 minutes or until the patty is done.
**Watch the heat and water, don't let the rice burn. Get some hot water ready, and add some water if necessary**

5. When it is done, remove the clay pot from the heat. Top with the pre-fried salty fish. Garnish some cilantro, green onion and chili slices.
6. Mix with some sauce from step "D" (above) in the rice.