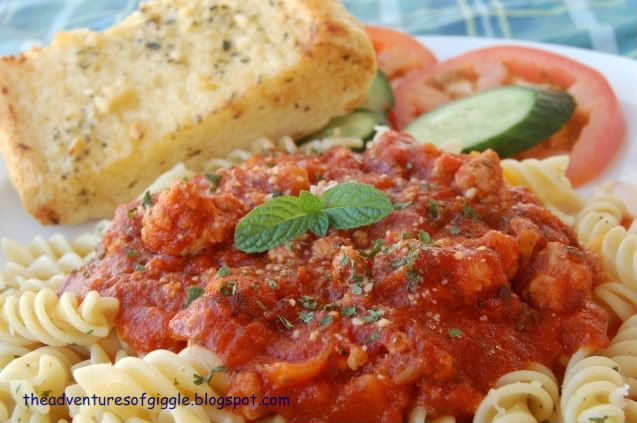 Don't be confused by the name of this dish - sounds complicated huh? Sometimes, when I don't know how to name the dishes I cook, I will let Tom and Cici name it. Tom named this dish in Italian, means spiral pasta with pork in red sauce. Sounds better in Italian, right? LOL!
I am working full time recently, so, simple and fast meal is my first priority. I always cook extra to save for mine and Tom's lunch box the next day. Pasta or spaghetti still taste good the next day, so I cook them a lot recently. LOL!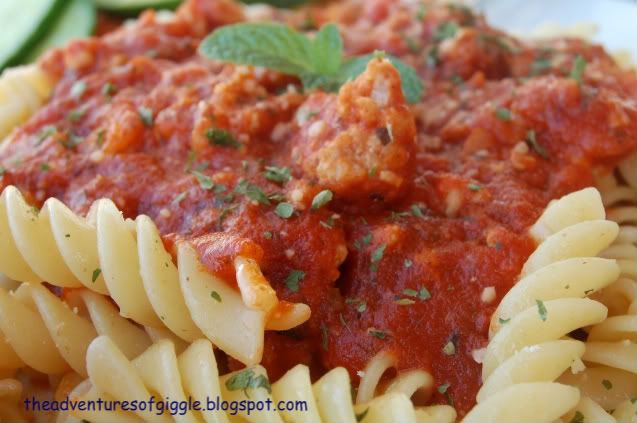 Here's my recipe :
To make the sauce :
1. 280gram ground pork (can substitute with ground beef)
2. 1 can (26oz) spaghetti sauce
3. 1/3 cup chopped onion
4. 1/4 tsp dried basil
5. 1/4 tsp dried parsley
6. 1/8 tsp ground black pepper
6. salt and garlic to taste
7. some your preferred shredded cheese
8. Parmesan cheese to taste
9. 1 pack (340g) Rotini - cook according to packing direction. After drained, mix with 1tsp of olive oil and sprinkle some parsley flakes in it.
To make the sauce :
1. Grease a heated pot with some oil.
2. Fragrant the onion then stir in ground pork, cook for 2~ minutes.
3. Pour in the spaghetti sauce, add in basil and parsley. Simmer for 30 minutes.
4. Add black pepper, salt & garlic to taste.
5. Top the Rotini with shredded cheese then spoon the sauce on top of it.
6. Sprinkle some Parmesan cheese and serve.