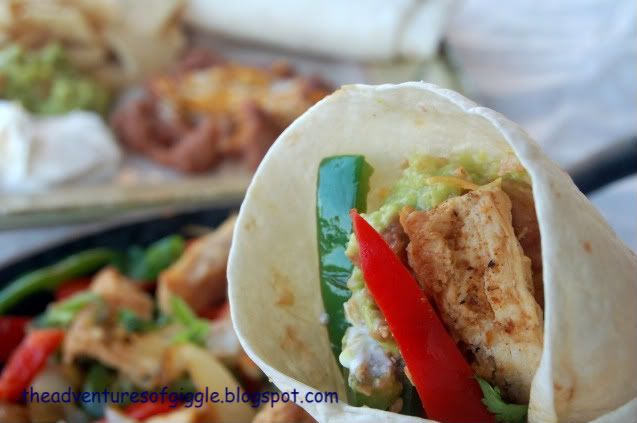 Fajita is one of the Tex-Mex cuisines, which also can be referred as Southwestern cuisine in America. Tex-Mex cuisine refers to the food prepared with the influences from Texan and Mexican cuisines.
There are a lot of Mexican restaurants in Arizona. The most popular Mexican dishes they serve are Taco, Burrito, Fajita, Chimichanga..etc. Most of these dishes have a common ingredient - they are served with tortilla wrapped or folded. The fillings normally consist of grilled meat, lettuce slices, re-fried beans (
frijoles
in Spanish),
salsa
,
guacamole
, sour cream..etc.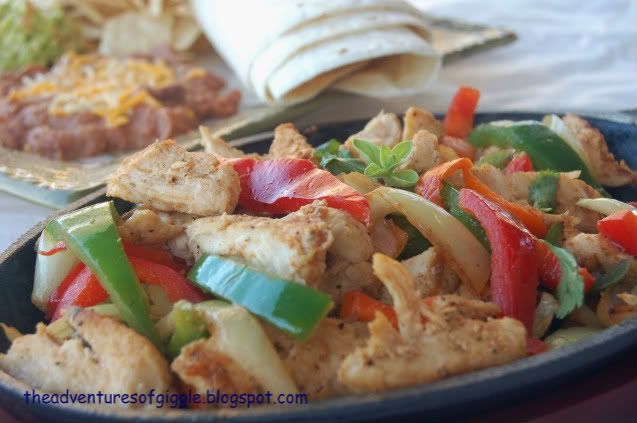 The name
Fajita
originally refers to grilled beef (skirt steak) served with tortilla. Different kinds of meat like Chicken, pork and shrimp are also available now. The grilled meat is usually served on a piping hot iron skillet/sizzling plate with some pepper and onion slices. The tortilla sheets and other condiments are served on a separate plate.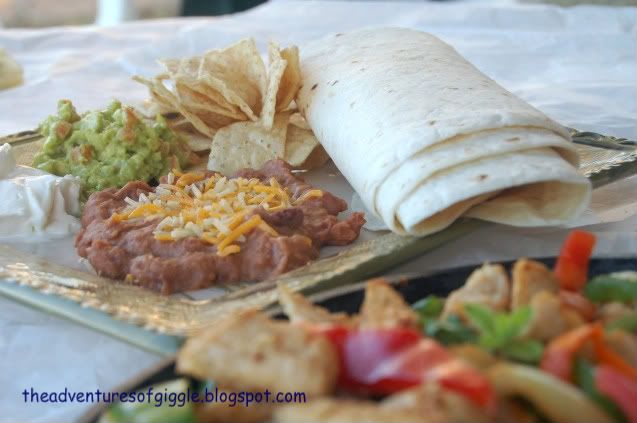 Tom bought me a sizzling plate a month ago. I was hopping to make my own version of fajitas. Here they are. :-)
1. 250g chicken breast
Marinate with :
1. 1/4 tsp ground cumin
2. 1 tbsp lime juice
3. 5~6 leaves of fresh oregano (minced) or 1/2 tsp dried oregano flakes
4. 1/2 paprika pepper powder
5. 3 cloves garlic - crushed
6. salt to taste.
- marinate overnight.
1. Some red and green pepper slices
2. 1 jalapeno pepper slices
3. 1 habanero pepper slices (only for those SUPER HOT lover)
4. Some Cilantro (optional)
Other ingredients/Condiments :
1. 4~6 tortilla sheets
2. Lettuce slices
3. Salsa (see recipe
here
)
4. Guacamole (see recipe
here
)
5. Re-fried and some shredded Mexican cheese
Cooking Steps :
1. Grill the chicken breast over medium heat (about 8~10 minutes each side). Remove from heat, and slice to strips.
2. In the meantime, warm the tortilla sheet and re-fried bean topped with Mexican cheese.
2. Heat the greased iron skillet/sizzling plate, saute the pepper and onion slices for about 3~5 minutes. Season with some salt and garlic if desired.
3. Add in chicken strips, stay in the heat for about 2 2~3 minutes.
4. Remove from heat, and serve warm.