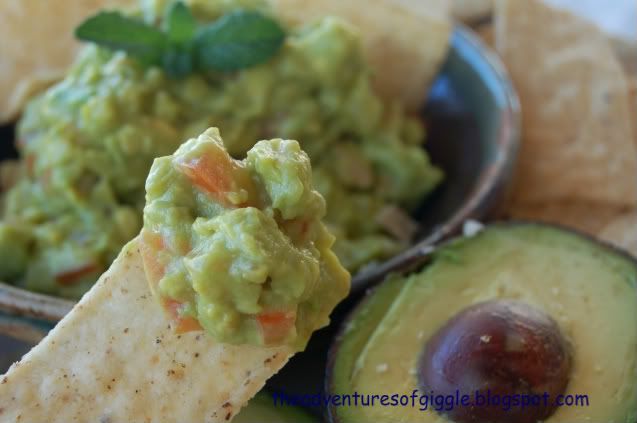 I never liked avocado. Didn't know how to prepare it. I have seen it been served in salad bars, but never had much because I thought it tasted bland. But I got to change my mind now. I had some tortilla chips dipped with guacamole in a pot luck party, it was tasty and refreshing, I couldn't stop eating it! LOl!!
Guacamole is an avocado based dip/sauce. Other major ingredients are lime juice, onion or garlic, and salt. Sometime, tomato cubes, cilantro, chili pepper are added to. It is really nothing complicated, you can adjust the amount of the ingredients according to you desired taste.
Here's my version of guacamole.
1. 3 ripe avocados - cut to half, remove the seed, scoop out the flesh to a mixing bowl and mash with a fork.
2. 1/4 cup tomato cubes
3. 1~2 tbsp fresh lime juice to taste
4. 3~4 cloves garlic - finely chopped
5. 1/8 cup chopped onion
6. Some cilantro (optional)
7. Some salt to taste
Steps:
1. Mix all ingredients above and refrigerate for an hour before serving.
2. Can serve with tortilla chips, cracker...etc.
I serve this with chicken fajita too, stay tuned and check it out later! :-)