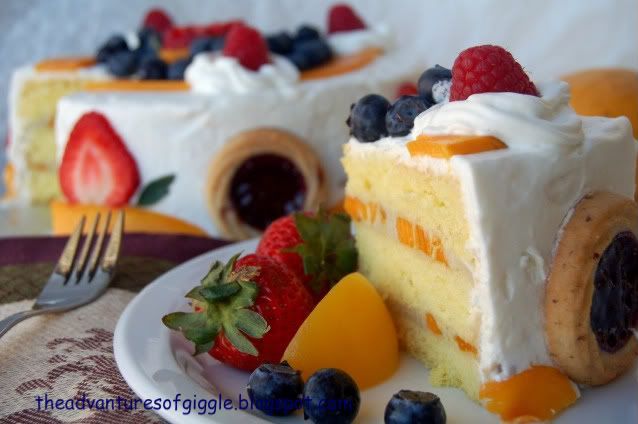 This was my third assignment of last week end!!! I was exhausted after completing
Hokkien Mee
,
Bak Zhang (Glutinous Rice Dumpling)
and this cake. It needed a lot of work and passion+ patience to get them done right. But the results were worth the effort for me to try. Hubby just said that he wants this cake for his birthday. :-)
It is mango season. The mangoes that are sold in Asian supermarkets here are from Philippines - Manila mango. It is the one best suitable for yogurt, pudding and smoothie making. I always have them available for my smoothies or just eat them fresh.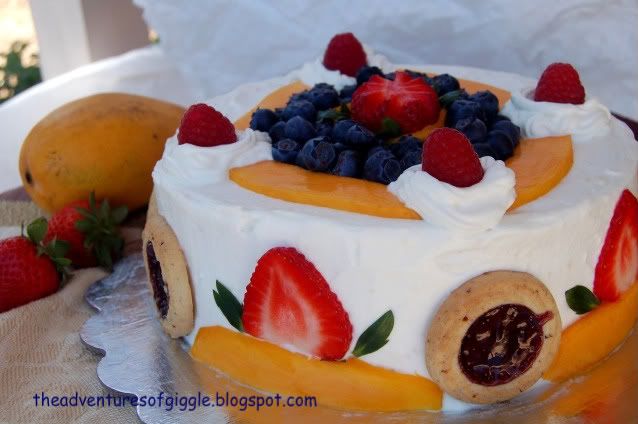 I use a lot of mangoes for this cake, like my mom always said, I would make "liao lui" (lost money) business if I sell my homemade foods because I would add generous amounts of ingredients to make it tastier. LOL!!!!
Here is the recipe and the steps :
1) Cake base
A)
i) 90g cake flour - shifted
ii) 1 tsp baking powder - shifted
iii) 3 egg yolks
iv) 30g sugar
v) 1/4 cup water
vi) 1/4 cup vegetable oil
vii) 1/4 tsp salt
viii) 1/2 tsp vanilla extract
viii) 1/2 tsp mango extract
B)
i) 3 egg whites
ii) 50g sugar
2) Filling
i) 3 ripe mangoes - 2.5 cubed, slice another half for decoration.
ii) 170g plain yogurt
iii) 30g yogurt
iv) 15g gelatine gel (dissolved in 1/8 cup water)
v) 250ml whipping cream
3) Decoration (can be done with ingredients/fruits as desired)
i) 200ml whipping cream - whip with 1 tbsp of icing sugar.
ii) some mango slices from # 2( i )
iii) Some raspberries, blueberries and strawberries
iv) Some blueberry digestive cookie (I used Pepperidge Farms)
Steps :
1. Cake
i) Line a 8" spring form cake pan, preheat the oven at 325F.
ii) In a mixing bowl, mix ingredients A until well combined.
iii) In a separate larger and clean mixing bowl, whisk ingredients B until stiff.
iv) Gently fold in step # iii, lightly stir with plastic spatula to mix well.
v) Pour the mixture into cake pan, bake for 40~45 minutes.
vi) Invert the cake for cooling.
vii) Slice to 3 layers horizontally.
2. Filling
i) Dissolve the gelatin in the water, add in sugar, double boil until clear - set aside for slightly cooling
ii) Mix the mango and yogurt together, pour in # i, stir to mix well.
iii) Whip the whipping cream, mix 1/2 into # 2, divide into 2 portion.
3. To assemble
i) Place a layer of cake into cake pan.
ii) Spread 1 portion of filling on top of it, repeat the same step for second layer, place the last layer of cake on the top.
iii) Wrap the cake pan with plastic wrap and chill in refrigerator for 2~3 hours.
iv) Whip the whipping cream for decoration.
v) Lift up the cake ring, spread whipped cream around the edge and on top of it.
vi) Decorate with the fruits.
Cake cooling on the rack.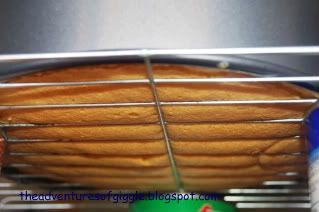 Mango Yogurt mixture.