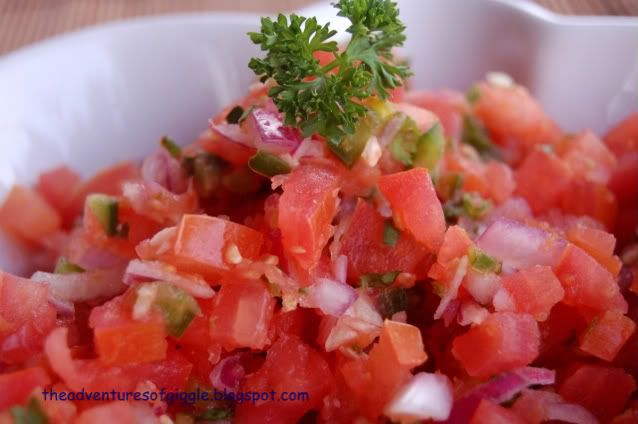 Once, we were doing the grocery shopping as usual. Tom, my super sexy husband, wanted to buy a jar of salsa. I looked at the ingredients label and found that it is actually not hard to make. In America, salsa is normally refers to Mexican tomato based sauce that serve as dip for the chips or sauce for variety of Mexican wraps like burrito, taco..etc. The others ingredients are lime juice, jalapeno pepper, onion, garlic, cilantro...etc. These are all can be easily obtained in any supermarket. So, why spend more money for a jar of salsa? Isn't that healthier to have the fresh homemade food?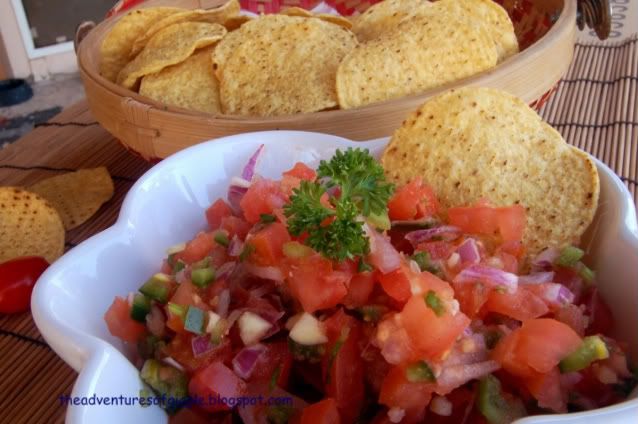 You may also add some salsa when seafood dishes are served, this refreshing sauce will improve the freshness and taste of the seafood.
Ingredients and Steps :
1. 2 medium size tomatoes
- halve, remove the inner juicy flesh and place in a blender container to make tomato juice. Cut the remaining outside flesh and skin into to chunks.
2. 1 jalapeno pepper (Malaysian can use chili padi) - finely chop
3. 2 tbsp chopped onion
4. 1 clove minced garlic
5. 1 tsp fresh chopped cilantro
6. 1 tbsp fresh lime juice
7. a little bit grated lime zest
8. salt to taste
9. white vinegar to taste (optional)
Mix all the ingredients in a container, cover and refrigerate at least 2 hours before serving.