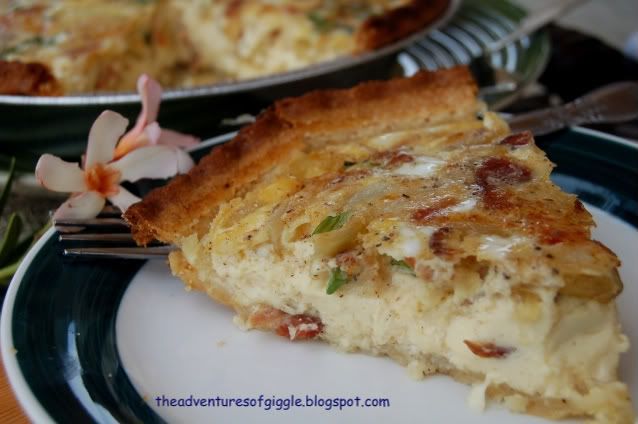 Quiche (pronounce "keesh") is an open savory tart with the filling that made from eggs, cream, cheese, meat (bacon) or vegetables (spinach, tomatoes)..etc. Quiche is a French cuisine that usually served as brunch or a snack for picnic.
I was hesitant what to cook for my family in law's Xmas party in year 2007. Few days before the party, I was reading the newspaper while my mom in law preparing the breakfast, I got caught by a page with few holiday meal recipes. "Quiche" was the first thing that caught my eyes, I read over the ingredients and steps, then immediately decided to make it become one of the dishes for that party. The result turned out great. I made two 9" size, they were all gone while it was still warm.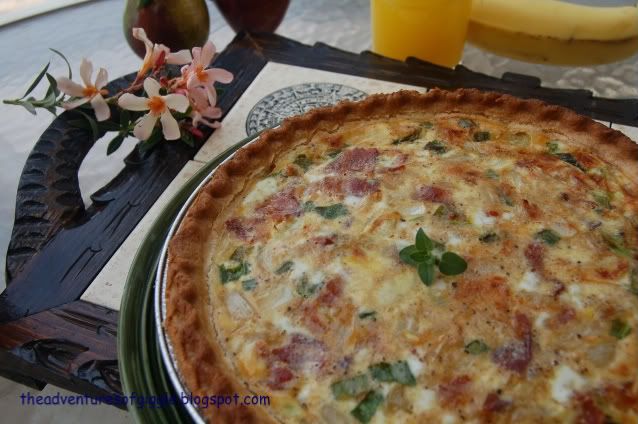 When we are bored with an over easy egg or omelet for breakfast/brunch in the weekend, we will have quiche. It can be eaten in warm or cold. I like it better when it is warm.
The ingredients :
Crust :
1. 1 ready made 9" pie/tart crust (deep dish shell)
or
1. 180g all purpose flour
2. 1/2 tsp salt
3. 85g cold butter, cut to pieces
4. 45g margarine, cut into pieces
5. 3~4 tbsp iced water
**You may make extra crust and freeze it, just have to grab it out from the freezer whenever you want to make quiche**
Filling :
1. 6 slices bacon (can substitute with turkey bacon if you afraid pork bacon is too fattening)
2. 3/4 cup chopped onion
3. 1/4 chopped green onion (optional)
4. 2tsp olive oil
5. 2 large eggs
6. 2 large egg whites
7. 3/4 cup evaporated milk
8. 3/4 low fat milk
9. 2 tsp cornstarch
10. 1/2 tsp freshly ground black pepper
11. 1/4 tsp salt
12. 1/4 tsp ground nutmeg
13. 3/4 cup grated Gruyere cheese (or your preferred cheese)
Steps :
Crust (unless using ready-made deep dish)
1. Sieve the flour and salt into a mixing bowl.
2. Rub in the butter and margarine until the mixture resembles coarse breadcrumbs.
3. Stir in just enough water to combine.
4. Gather into a ball, wrap in cling firm and refregerate for 20 minutes.
5. Removed the chilled dough from the fridge and let it soften slightly at room temperature.
6. Roll out to a 3mm thick round piece, it has to be 50mm larger round than tart pan.
7. Transfer to a 9" tart pan and trim.
8. Prick the face all over with the fork.
9. You may decorate the edge with the fork or fingers.
10. Cover crust with aluminum foil and freeze for 1 hour before use.
Filling
1. Preheat the oven at 425F/218C
2. Cook the bacon slices until crspy. - crumble and set aside.
3. Saute the onion with olive oil until fragrant, stir in the crumbled bacon and green onion. Remove from heat and set aside.
4. Whisk together the eggs and egg whites. Then add in evaporated milk, low fat milk, cornstarch, black pepper, salt, nutmeg. Whisk to combine.
5. Mix grated cheese into cooled onion bacon mixture, then spoon the mixture into the crust.
6. Slowly pour the egg mixture in even layers.
7. Bake on the lower rack in preheated oven for 30~40 minutes or until the filling is set.
8. Best served warm.
Bacon Onion mixture in the crust, egg & mill mixture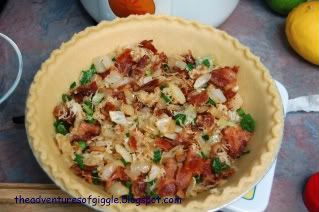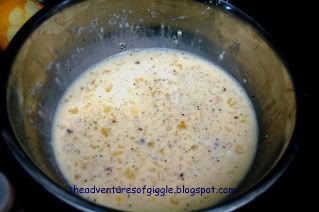 Ready to bake --> ready to serve!!