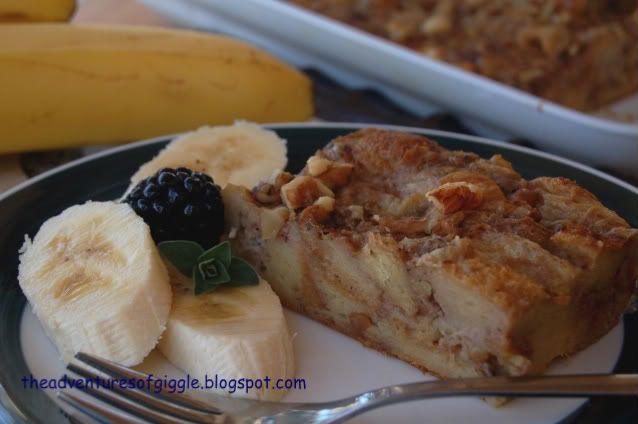 Tom challenged me to make "Banana Foster" for a dinner with a friend of us. The reason for him to ask so because we had a wonderful experience of tasting "Banana Foster" at The Chop House - a dinner treated by my parents in law for our marriage celebration. It served as a topping on a piece of bread pudding.
I was then browsing around for the recipe of Banana Foster and found that it is best served right after you remove from heat. Another interesting technique is you got to ignite the rum and banana liqueur while cooking it. I will try this if the cooking is done in my kitchen. But, I'm not going to do this in our friend's kitchen, I don't want to burn their house!! LOL!!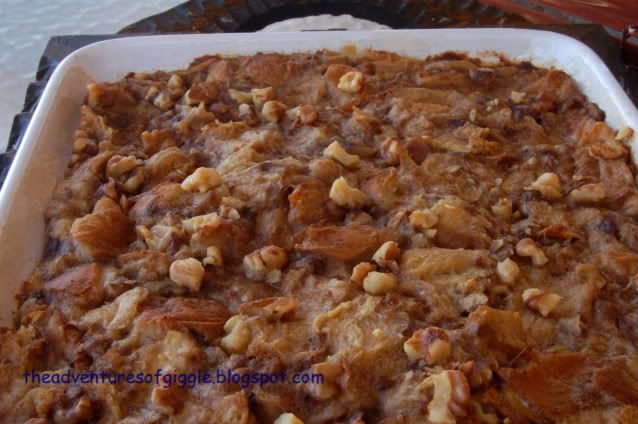 I discovered this Banana Bread Pudding recipe while I was browsing for Banana Foster making. I love any breads or cakes with banana ingredient in it. I wanted to try how would it tasted like. I modified the recipe and added some walnuts in it. It tasted like baked version "kuih kodok" (Banana fritter), yummy!!!!! Do you like "kuih kodok" but afraid of the excessive oil?? Then you should try this out! It is really simple.
Ingredients :
1. 1/2 loaf (about 250g) Challah or French Bread - cut into 1" cubes
2. 2 large Eggs - lightly beaten
3. 1 1/3 cups low fat milk
4. 1/4 cup brown sugar
5. 3 large ripe bananas (about 400g without skin) - mash with fork.
6. 1/2 tsp vanilla extract
7. 1/2 tsp cinnamon powder
8. 1/8 tsp ground nutmeg
9. 1 cup (about 90g) walnut - bake for 4 minutes in the oven at 350F, then chop coarsely.
Steps :
1. Lightly grease a 9"x6" baking dish with some butter.
2. Place the bread cubes evenly into the baking dish.
3. Whisk together the ingredient #2~8.
4. Pour the mixture # 3 evenly to the bread cubes.
5. Gently fold in the walnut pieces.
6. Cover it with the aluminum foil.
7. Refrigerate for 30 minutes to allow the bread soak in the mixture.
8. Preheat the oven at 325F
9. Bake with the aluminum foil cover on for 45 minutes at middle rack.
10. Remove the foil, bake for another 30 minutes.
11. Serve warm or cold.
Bread cubes --> bread cubes soak in the banana milk mixture