Curry puff is a popular snack in Malaysia. It can be easily found at many food stalls across the country. The filling usually consists of curry potato or chicken with thicken curry gravy. Sometime, you may get it with sardine filling too.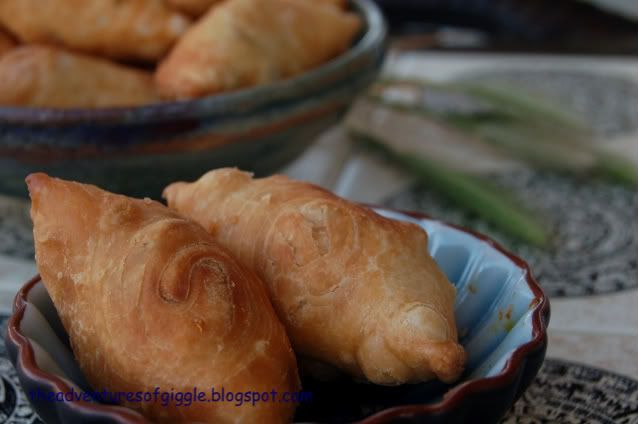 I used to have curry puff as my daily afternoon snack back to my working life in Malaysia. I stopped to take it for a while as my throat got sensitive by eating too much deep frying and spicy food. After then, I took it again everyday, stopped when my throat protested... :-p!!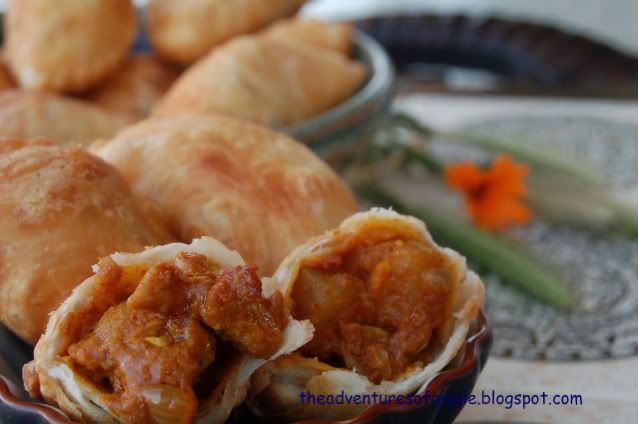 I like to make curry puff whenever I am craving for it. It can be done ahead and frozen until you need it. Here are the ingredients and steps :
A. Filling
1. 150g chicken chunks - marinate with some salt and curry powder
2. 200g diced potato
3. 20g chopped carrot
4. 30g diced tomato
5. 250g minced shallot
5. 1 stalk lemon grass - crushed
6. 5~6 curry leaves
6. 2tbsp spoon curry powder - mix with some water
7. Some sugar and salt to taste
8. Some water
9. 2~3 tbsp coconut milk
B. Water Dough
1. 350g all purpose flour
2. 40g margarine
3. 180ml water
4. 1/3 tsp salt
C. Oil Dough
1. 120g all purpose flour
2. 60g margarine
Steps :
A. Filling
1. Heat up the pan with some oil, stir in the minced shallot, cook until fragrant.
2. Add in lemon grass, curry leaves and curry powder, stir for 2 minutes.
3. Add in potato dices, carrot and tomato, stir and cook for another 5 minutes or until potato slightly tender. Slowly add some water for better cooking.
4. Add the chicken chunks and cook until they are done.
5. Sugar and salt to taste.
6. Stir in coconut milk, cook for another minute or two.
7. Remove from heat and set aside.
B. Water Dough
1. Melt the margarine, salt in the broiled water.
2. Make a well in the middle of flour, pour in the margarine salt water.
3. Mix well and knead to form a smooth dough. Let it rest for 15 minutes. If it is too dry to handle, rub your hands with some water to work on it.
4. Divide the dough to 8 portion.
C. Oil Dough
1. Rub margarine into flour until they mixed well, divide to 8 portion.
D. Wrapping (for 2" diameter curry puff mold)
1. Wrap the oil dough with water dough.
2. Flatten it to a 4" X 6" piece sheet
3. Roll it up lengthwise like Swiss roll
4. Repeat the step #2 and # 3.
5. Cut the roll into 6 portions.
6. With the cutting edge facing down on your work surface, roll it to a 2.5~3" circle skin.
7. Place the skin on the mold, fill up with the curry filling, fold the mold and trim the extra skin.
8. Remember to keep the sealing edge clean and oil free, or your curry puff will "pecah" when you fry it.
9. Fry the curry puffs until golden brown.
Roll up like Swiss Roll..--> cutting edge facing down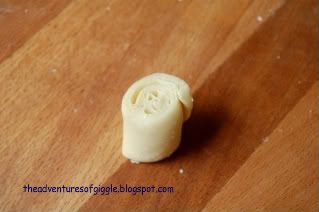 Roll to 2.5~3" dia. skin...--> Filled, Folded and trimmed