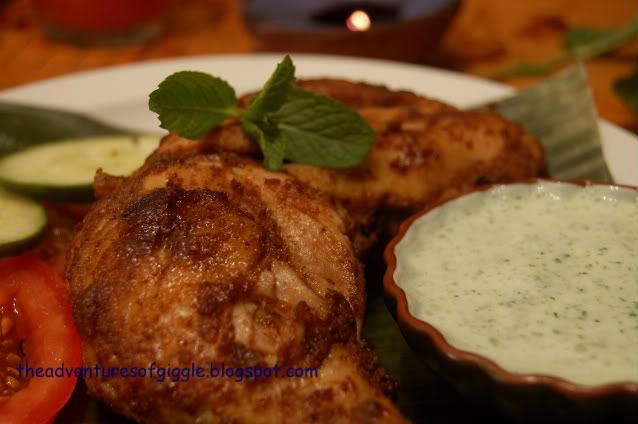 I am lucky, having being grown up in a country that consists of a multi-racial environment. This special condition not only makes us able to blend well in different cultures, but also provides us varieties of foods to explore anytime, anywhere across the country. It is also interesting that you get the opportunity that to learn different kinds of culinary styles from your neighbors.
Tandoori Chicken is a Punjabi dish that originates from North India. I think it is served in most every Indian Restaurant. The word - " Tandoor" - is a cylindrical clay oven used in cooking and baking. The chicken is normally marinated with yogurt mixed with Tandoori Masala (a mixed ground spices of cumin, coriander, pepper, ginger, cardamom, mustard..etc), then baked in the high temperature tandoor, or it can be also cooked on a traditional grill.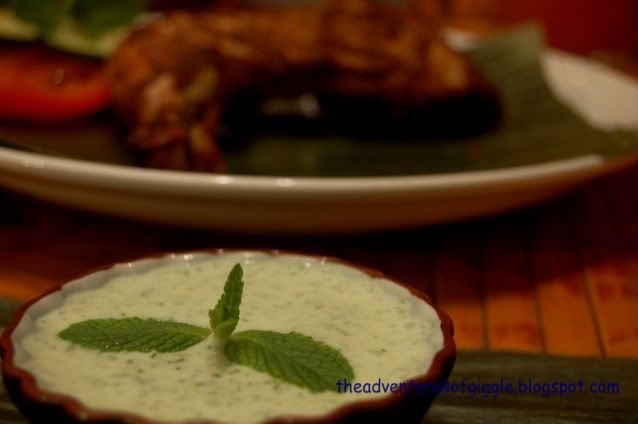 The Tandoori Chicken served in Malaysia usually comes with a mint yogurt condiment. This refreshing condiment makes an appropriate compromise for the strong Tandoori flavor. There is one thing I don't like about the Tandoori Chicken made at most restautants is - the chicken comes out too dry and too red (I think it is not from the red chili -probably red food color instead??)
So, when I make the tandoori chicken by my own, I lower the baking temperature a bit, so
my
version of Tandoori Chicken is without food color and always yummy and juicy!
Ingredients :
1. 4pcs chicken leg (4pcs) - cut few deep lines on both sides for better cooking.
2. 5 cloves garlic - crushed
3. 1/2" ginger - crushed
4. 2 tbsp lime juice
5. 8 tbsp plain yogurt
6. 5~6 tbsp Tandoori Masala (buy from a well stocked supermarket or Asian/Indian specialty food store, andadjust to your desired spiciness)
7. 1-1/3 tsp salt
8. Some soften butter (optional)
Mint Condiment
1. 2 tbsp plain yogurt blend with 8~10 mint leaves.
Steps :
1. Rub the chicken with the crushed garlic, ginger and lime juice. Set aside for 15 minutes.
2. Mix the yogurt, tandoori masala and salt well.
3. Rub the tandoori yogurt mixture on the chicken until evenly coated. Refrigerate for at least 4 hours or overnight.
4. Leave the marinated chicken at room temperature for 1~2 hours before cooking.
5. Preheat the oven at 425F/220C, place the chickens on the middle rack. Put the chicken on a wire cooling rack, on a baking sheet. This will elevate the chicken above the baking sheet, making sure it cooks evenly, and catches the drippings on the baking sheet. Bake for 30~40 minutes for each side. Turn once or twice.
6. 10 minutes before the end of baking, brush some softened butter on the chicken and return to baking.
7. Serve warm with cool mint condiment.