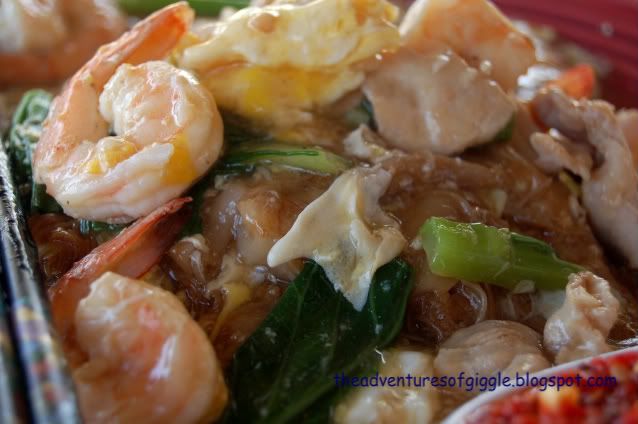 I have been busy for my work lately. Even though, I will not stop posting about my cooking, stay tuned, OK?
This is one of the famous hawker food (street vendor) in Malaysia - fried flat noodle sheets mix with rice noodle then served with thicken gravy with or without egg. If you order "hor fun" it will come with just flat noodle. It is also one of the popular item served in most of the Chinese restaurants in US, but I seldom order it. Because I like it best tasted with sambal chili.
To my surprise, Tom loved it and told me don't hesitant to cook it again in future. :-)!!
Here's the recipes :
Ingredients :
For frying Yuan Yang :
1. 500g Hor Fun (flat noodle sheets) - cut to smaller size
2. 150g Bee Hoon (rice noodle/rice vermicelli) - soak in water to soften it.
3. 11/2 tbsp soy sauce
4. 1 tsp dark soy sauce
5. 1 tbsp oyster sauce
6. 1/8 tsp sugar
7. 1/8 tsp fish sauce
8. 2~3 cloves large garlic - finely chopped
9. 1/2 tbsp vegetable oil for frying
For Gravy :
1. 1000~1200ml pork bones stock/chicken stock (cook in advance)
2. 200g medium~large shrimp (can adjust to your preferred amount)
3. 200g pork/chicken slices (can adjust to your preferred amount)
4. Some Choi Sum (vegetable)
5. 2~3 cloves large garlic - chopped
6. 1 tsp soy sauce
7. 1 tsp oyster sauce
8. Some salt to taste
9. Some white pepper to taste
10. 4 tbsp corn starch (or as needed) mix with some water
11. 3~4 eggs - lightly beaten
Steps :
For frying Yuan Yang, it must be done in high heat in order to provide enough "wok hei" - wok breath.
1. Mix together all ingredients from #3~7
2. Heat the fry pan with some oil
3. Over high heat, fragrant the chopped garlic, then stir in the flat noodle and vermicelli.
4. Add in mixture # 1, stir the noodle to coat well.
5. Cook for 2~3 minutes, remove the yuan yang from the frying pan to the serving plates.
For gravy :
1. Heat up the pan with some oil.
2. Fragrant the chopped garlic.
3. Add in shrimps and meet slices, stir for 1 minutes.
4. Pour in pork bones/chicken stock
5. Season with ingredients #6~#8
6, Bring to boil, add in vegetable.
7. Thicken the soup with corn starch.
8. Drop the beaten eggs, wait for 5~8 seconds, stir it.
9. Scoop the gravy and others ingredients to top the yuan yang, sprinkle some white peper to taste.
10. Best served with sambal chili.
Enjoy :-)