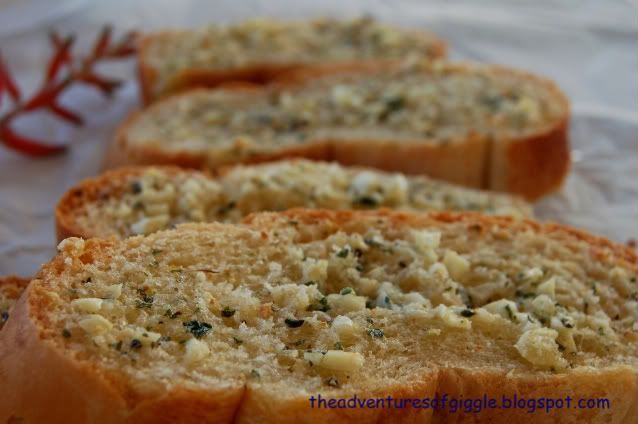 I can't resist the fragrance of cooked garlic. As you can read from my blog, I use garlic a lot for my cooking.
Garlic bread is most commonly served before the main course in the western restaurants in Malaysia. I love it so much but always ended up pack to go because I need to save some space of my stomach for the main course.
It is very easy to make garlic bread on our own. You may prepare extra garlic butter mixture and keep it in the fridge - you just have to soften it to room temperature whenever you need it.
Here's my recipe :
1. 1 loaf French Bread (cut to 2/3 slices)
2. 100g unsalted butter - soften to room temperature
3. 6~8 cloves large garlic (or as desired) - minced
4. 2~3 tsp parsley flakes
5. 1 tsp oregano flakes
6. 2 tsp (or as desired) seasoned salt & garlic powder
7. Some freshly ground black pepper
Steps :
1. Preheat the oven at 350F
2. Bake the bread slices for 4~5 minutes.
3. Mix well the ingredient # 2~#7
4. Remove the bread slices from the oven, spread over the mixture # 3 on each slice.
5. Return the bread slices to the oven, bake for another 6~8 minutes. The longer the baking time, the crispier it will be.