Back to 1980's~1990's, whenever someone had a party for a special occasion, they liked to have BBQ, grilling the chicken, corn, sweet potato and "kembung" fish with the charcoal heat. The host and guests took their time hanging around at the party by BBQing and talking or playing games. Those were a greatly cherished moments.
People now are lack the time or afraid it's too much trouble to prepare the food and clean up the mess, they prefer to have a caterer to get everything done, or celebrate at the restaurant.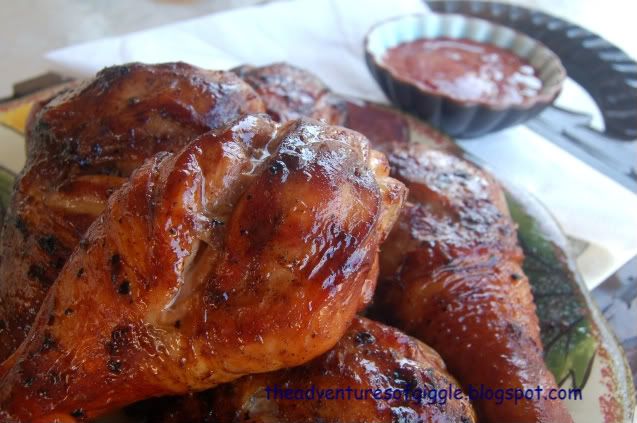 My family always have BBQ party for certain occasions like Lantern Festival or Moon Cake Festival. Usually , chicken wing is first choice. It is always in short supply due to eating is faster than grilling. LOL!!
Here's our recipe for the BBQ chicken.
1. 2lbs chicken (about 6 chicken drum sticks)
Mix the following marinating ingredients in a mixing container.
A)
1. 1/2 tsp fresh grated ginger
2. 3~4 cloves garlic - crushed
3. 3 tbsp soy sauce
4. 1 tbsp oyster sauce
5. 1 tsp sesame oil
6. 1.5 tsp dark soy sauce
7. 1/4 tsp sugar
8. 1/8 tsp ground white pepper
9. a dash of 5 spices powder (五香粉)
B) Some butter and honey for brushing
Steps :
1. Rub the chicken pieces with marinating sauce to coat well. Refrigerate overnight, turn once for better marinating.
2. Place the chicken piece on the grate of the preheated grill. Grill over medium heat with lid covered for 10~12 minutes each side for drum sticks (reduce to 7~8 minutes each side for other portions).
3. Before you remove the pieces from the grill, brush the butter followed by honey on both sides.