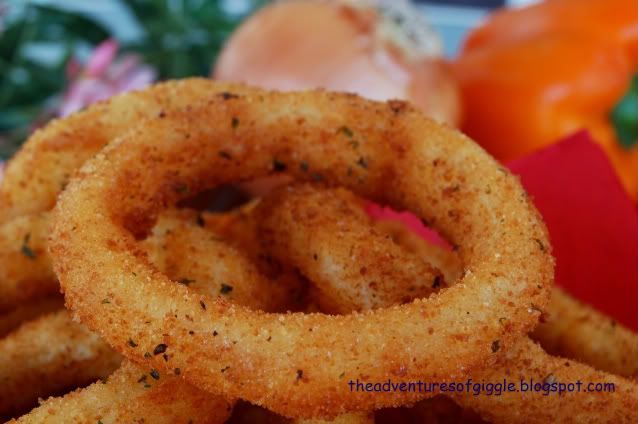 Onion Ring is a snack/appetizer that commonly served in US restaurant. Normally the large size of sweet onion will be used for this cooking. It will be cut and split to about 1/3" ring slices then dipped in batter, coated with seasoned bread crumbs then deep fried.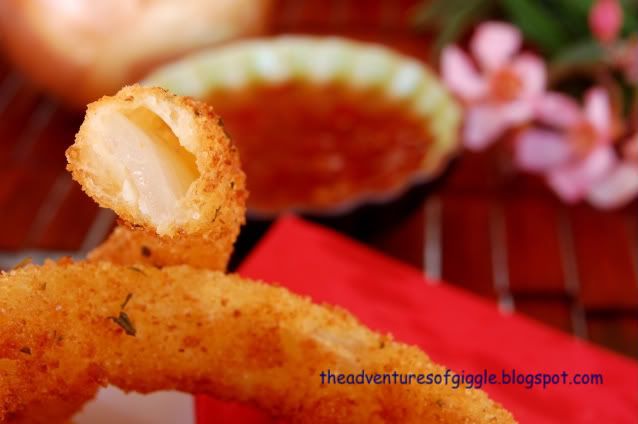 When we talk about deep fried food, it is always give you a sign of unhealthy food. Ya... I know. But, I think it is no harm to eat it once a while, right? We have a saying food, yummy food is always unhealthy, but healthy food is always tasted blend. So, I don't my to spoil my stomach once a while.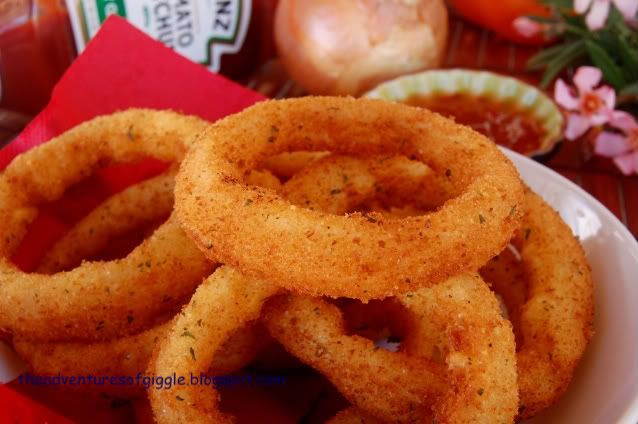 To prepare the onion rings, you need :
1. 1 Large size of sweet/yellow onion (about 300g) - cut and split to 1/3" ring slices
2. 1 cup all purpose flour
3. 1tsp baking powder
4. 1tsp salt
5. 1gg
6. 3/4~1 cup of milk
7. 1/2~3/4 seasoned bread crumbs - sprinkle some salt to taste
8. Some oil for deep frying
Steps :
1. Heat up the oil in a deep frying pan.
2. Mix well the flour, baking powder and salt.
3. Place the onion ring in the dry flour mixture, dust/coat each ring well.
4. After all the rings are dusted/coated, whisk the egg and milk into the flour mixture to form the batter.
5. Dip the floured onion rings in the batter, then remove and place it on the cooling rack by a kabob skewer (or any thin stick), let the batter drip off a bit from the rings.
6. Get ready the seasoned bread crumbs in a shallow bowl. Move the ring from the rack with a skewer, coat it with the bread crumbs evenly.
7. Deep fry in the heated oil over medium heat for 2 minutes or until it turns golden brown.
8. Serve with tomato ketchup or sweet chili sauce.
Onion rings coated on flour then batter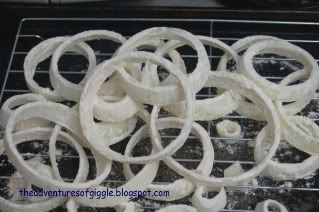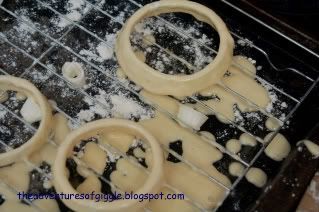 Bread crumbs coating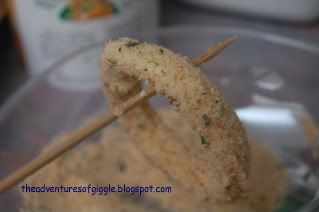 Frying