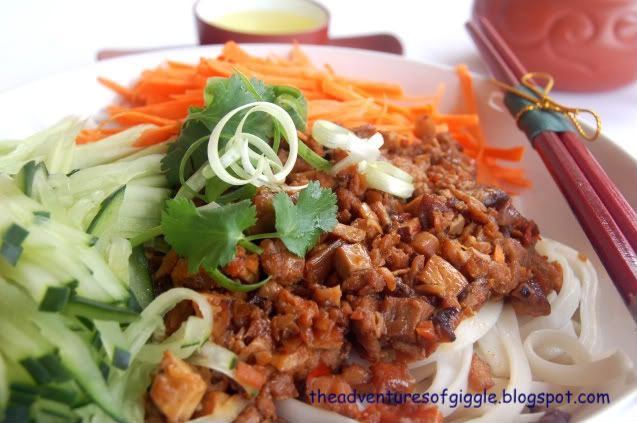 Chinese people have been eating noodles since 3000B.C. There is a legend saying that Italian noodle (spaghetti pasta..etc) was actually invented from the inspiration of Chinese noodle that brought by Marco Polo from China to European countries and then spread all over the world.
From the translation of Zha Jiang Mian - Chinese Spaghetti, you can tell that it is the noodle served with the ground meat sauce on top. It will be also topped with some thinly sliced cucumber, carrot. Some people will add some bean sprouts and celery slices too.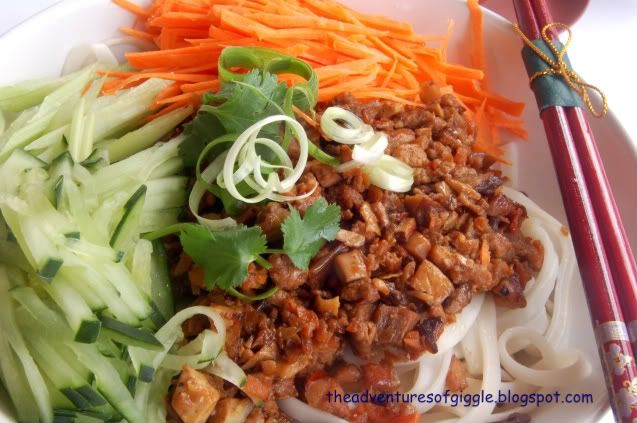 I'm lucky enough to live in a place that is so convenient to get many kinds of ingredients I want for different country's cooking. I got a pack of dried Chinese ramen from Lee Lee Asian supermarket for my Chinese spaghetti making. If it is not available at your area, you may substitute with instant noodle.
A very experimental sister at Tzu Chi told me that I can add whatever ingredients for sauce making as per desired taste. Here is my version of 炸酱面.
For 6~7 servings.
1. 500g chinese ramen (substitute with the instant noodle if ramen is not available)
- cook according to packing direction. Drain and set aside.
- boil some water. Noodle may be too dry and sticky when serving. You may add a spoon of water when you top with the meat sauce.
Meat Sauce (adjustable according to desired taste, add chilly if you want the spicy sauce. It has to be a bit saltier to mix with the noodle)
1. 150g ground pork (I didn't use too much meat for my recipe, add more if you like)
2. 6 cloves garlic - finely chopped
3. 1 inch ginger - minced
4. 3 tbsp crispy onion (油葱酥)
5. 5 pcs dry mushrooms - soaked and minced
6. 1 pc stewed bean curd (卤豆干) - small cubes
7. 100g pickled bamboo shoot - small cubes
8. 100g carrot - small cubes
9. 2 tbsp spicy bean paste
10. 1 tbsp oyster sauce
11. 1 tsp fish sauce
12. 1 tbsp soy sauce or as needed
13. 1 tsp dark soy sauce
14. 1/8 ground white pepper
15. Some sesame oil
16. 2~3 tbsp water or as needed.
17. 1 tbsp Shao Xing Wine
Topping vegetable (adjust the amount according to personal liking)
1. Cucumber slices
2. Carrot slices
3. Chinese celery
4. Green Onion
5. Bean Sprout
6. Cilantro
Steps :
1. Fragrant the garlic and ginger in a greased heated pan.
2. Add in mushroom and crispy onion, cook for 2 minutes, adjust the heat accordingly to avoid burnt.
3. Add in ground pork and ingredient # 5~12. Stir fry over high heat for 5 minutes.
4. Add some water, switch to medium low heat and cook for another 15~20 minutes.
5. Add in some white pepper, sesame oil and Shao Xing wine. Stir well and cook for another 3 minutes.
6. Top on the noodle. Serve with preferred vegetable toppings/garnishing.