I have some leftover turkey and ham bones sitting in my freezer. I wanted to use it for "Chai Boey/Chap Chai". Chai Boey/Chap Chai is a very common dish in Penang that usually cooked after certain celebration/worshiping. It is cooked with a lot of leftover goodies mix together - BBQ pork bones, roasted chicken, roasted duck then simmer with a bunch of big mustard leaves(大芥菜).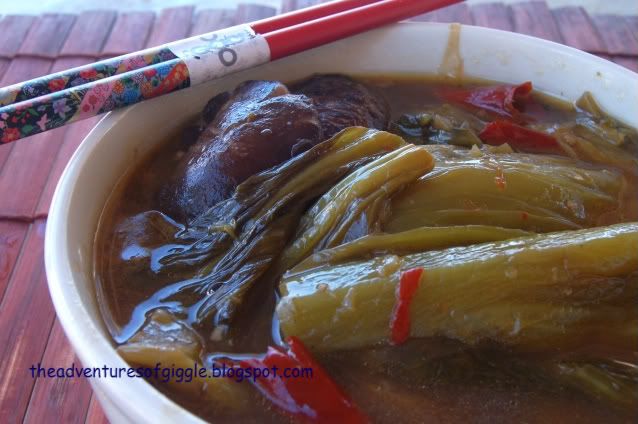 I was surprised that Tom actually loves it. When did he start to love sour and spicy food?? That might be my cooking influence. Believe it or not, both of us could finish a big pot of Chai Boey in just a single meal. :-p
The following recipe is prepared according to the flavor of the leftover bones I have. It is adjustable if you have different kinds leftover goodies.
1. 1 kg left over roasted Turkey and Ham bones
2. 1 kg big big mustard leaves (大芥菜) - cut
3. 100g Pickled Mustard (酸菜/Kiam Cai) - OPTIONAL
4. 100 Jicama (莎葛 - "mang guang in Hokkien) - cut to slices
5. 4~5 mushroom - sliced
6. Some dried squid slices (干鱿鱼丝) - OPTIONAL
7. 3~4 cloves large garlic - crushed
8. 4~5 thin ginger slices
9. 1 tbsp bean paste (豆酱)
10. 4~6 dried chili
11. 2~3 Chili Padi (I substituted 1 Jalapeno - sliced)
9. 1 tbsp Oyster Sauce
10. 1 tsp dark soy sauce
11. Some Soy Sauce - to taste
12. 1/2 tsp sesame oil
13. 1 pc pickled plum and some syrup to taste
14. 10g Tamarind Paste (Asam Kor)- mix with 30ml water (I don't have Tamarind skin, so I used the paste instead)
15. 1 stalk lemon grass - crushed
16. 800ml~1000ml
17. 2000ml water to cook the mustard leaves.
Steps :
1. Heat a non-stick pot with some oil. In a different pot, boil the 2000ml water
2. Fragrant the garlic crushes and ginger slices.
3. Stir in bean paste and cook for 10 seconds.
4. Add in bones, jicama slices, mushroom slices, squid slices, oyster sauce, dried chili, chili padi/ jalapeno, sesame oil, dark & light soy sauce.
5. Stir and cook for 3~5 minutes, sprinkle some water for better cooking.
6. Meanwhile, cook the mustard leaves in the boiled water for 1 minutes. Drain.
7. Slowly add in the water and drained mustard leaves, pickled mustard, lemon grass into the bones mixture.The water should cover up about 2/3 of the ingredients.
8. Bring to boil, simmer for 15 minutes, stir occasionally for better cooking.
9. Add pickled plum,syrup, tamarind juice to taste.
10. Simmer for another 20~30 minutes.
11. Serve warm.
A pot of goodies!!