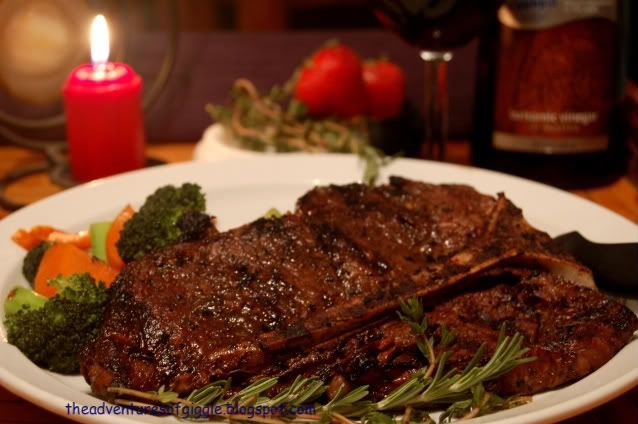 Since I have already made several times of Oriental Style Steak. It is time for me to invent another version --- more western style!! LOL!!
I feel that making steak is not that hard, sometime it can be simple just add the salt and pepper because the meat itself already tasteful and juicy. I am learning to use different kinds of western herbs like Oregano, Rosemary, Thyme, Basil, Parsley, Fennel...etc to make my culinary journey more interesting, not just simply add in "Italian Seasoning - mixed herb" when I make a western meal. It is good to learn the individual flavor of each of the herb, then you can always mix and match for creative recipes.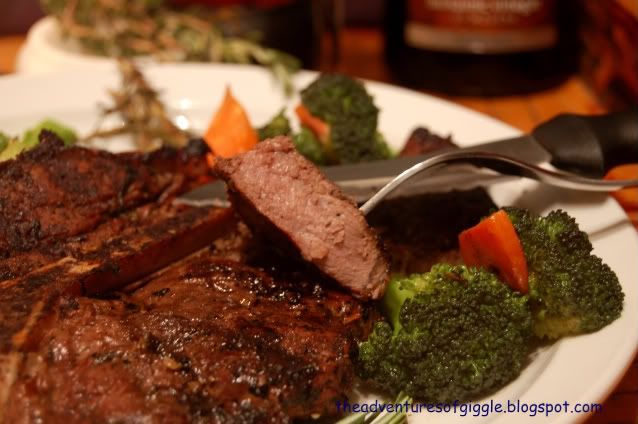 Tom likes this version very much, and so do I. I'm not a fan of "steak/red meat" person, so, I only grill 1 piece of steak for us to share. I usually just taste 2~3 bites and eat something else. When I made this "Balsamic Garlic Herb T Bone Steak" last few days, both of us ended up "scrambling" every bite of the steak. LOL!!!!!! It tasted heavenly!! The matching of the balsamic vinegar, garlic, rosemary and thyme is wonderful! This has already become my favorite seasoning. If you are not a "steak" person, maybe you can try this seasoning with poultry or salmon steak.
Ingredients and steps :
1. 2pcs 1" thick T Bone Steak (about 756g)
- seasoned with 3/4 tsp of salt and 1 tsp of fresh ground black pepper, set aside.
2. 2 tbsp Balsamic Vinegar
3. 1 tbsp olive oil
4. 6 cloves large garlic - diced
5. 4 sprigs fresh rosemary - finely chop 2 of them. Keep the other 2 sprigs intact for grilling.
6. 8 sprigs fresh thyme - finely chop 4 of them. Keep the other 4 sprigs intact for grilling.
Steps :
1. Combine the ingredient # 2~6 in a marinating container.
2. Rub the steaks with the marinating mixture, refrigerate for at least 3 hours.
3. About 1 hour before grilling, remove the steaks from the fridge. Discard the marinate mixture.
4. Heat up the outdoor grill.
5. Spray some Canola Oil on the grate, immediately place the steaks on the grate.
6. Grill about 8 minutes for each side for "medium". More or less, to taste.
7. About 3~4 minutes before it is done, place the rosemary and thyme sprigs between the grilling grate and steak.
8. Serve with some grilled or broiled vegetable.
Marinate Ingredients...., Rosemary & Thyme