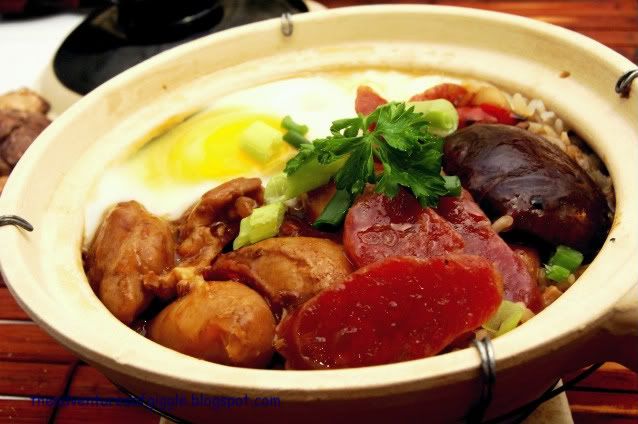 I have some chicken leftover from making sizzling noodles. It can be used for clay pot chicken rice too. The ingredients and steps of the chicken and gravy are the same. You may refer to my sizzling noodle post. I will just post the steps of cooking the rice with other ingredients here.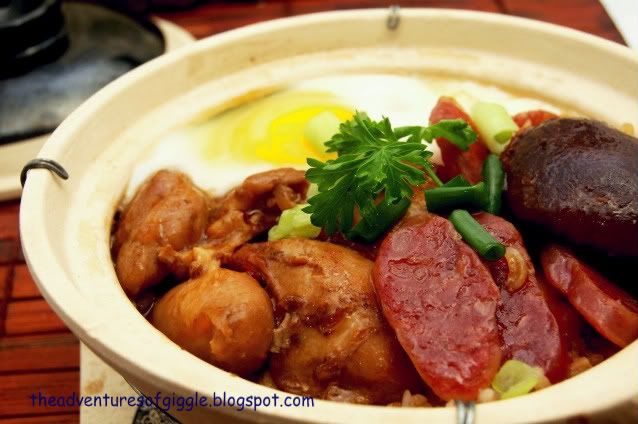 A) Chicken & Gravy
1) 2 pieces of chicken chunks and some gravy (please refer to
sizzling chicken noodle post)


B) Rice
1. 1/2 cup of rice for a small clay pot - washed and pre-soaked in water for an hour
2. 1/2 cup of water, save some extra hot water.
C) Other ingredients
1. Few slices of Chinese sausage (腊肠)
2. 1~2 chunks salty fish
3. 1 egg
4. Some sesame oil
5. Some green onion or Chinese celery for garnishing
Steps :
1. Boil the rice and water in a clay pot, simmer with cover on for 2~3 minutes over medium low heat.
2. Add in salty fish chunks, cook for another 1 minutes.
3. Scoop in chicken and gravy, continue to cook for 2~3.
4. Add in sausage slices and egg, cook for 2 minutes.
** Be careful to adjust the heat, sprinkle some extra hot water if needed**
5. Drop some sesame oil, garnish with some green onion or celery when serve.