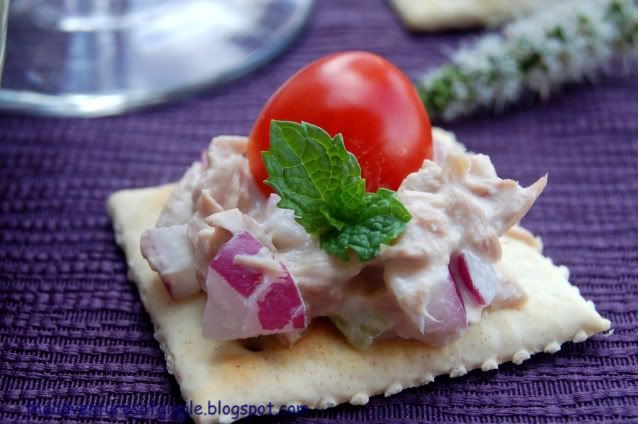 I feel blessed to live in this peaceful and resourceful place. I have a very "bad" habit, people (especially my girl friends) hate to be around me, as I couldn't stop thinking about food. My schoolmates, colleagues, best friends blamed me for their weight gaining because I fed them too frequent, ..:-p, sorry ya..., I just wanted to share nice food with you all, I have not been selfish, right?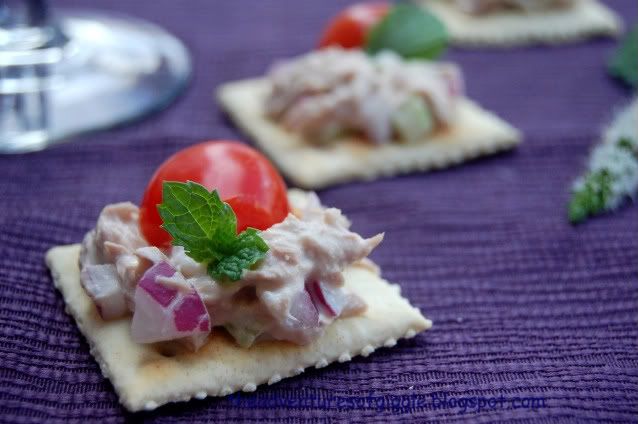 I am making this tuna salad for my afternoon snacks, it is too long for me to not have food during the gap between lunch and dinner, by taking this light afternoon snack, it actually helps you not to eat too much for dinner. See, I am caring about your figures too, friends! :-)
This recipe can be used for sandwich too. I hope you like it.
A) Any kind of crackers or sandwich bread you prefer.
B) Tuna Salad
i) 1 can light tuna in water (12oz) - drained
ii) 1/3 cup coarsely chopped onion
iii) 1/3 cup coarsely chopped celery
iv) some finely chopped chili padi/halapeno (if you like it spicy)
v) 3 tbsp of light whipped salad dressing or light mayonnaise
vi) some black pepper to taste (optional)
vii) Some lime juice (optional)
C) Topping
i) Some cherry tomato or persian cucumber slices
ii) Some mint leaves (optional)
Steps :
1. Mix well ingredients B
2. Serve with preferred crackers/bread and toppings.