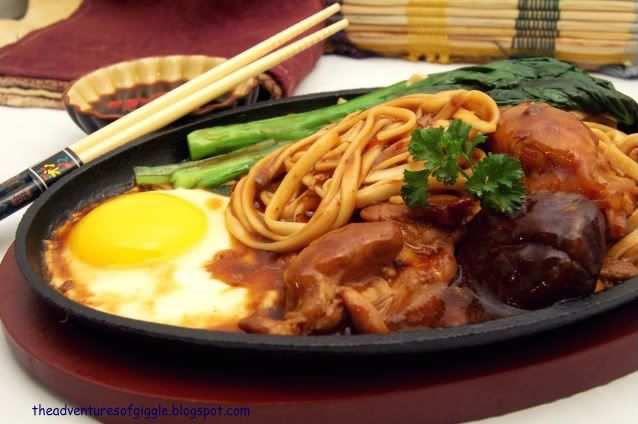 My friend in Penang complained that I should have posted more Asian recipes. Eerrr?? I think I have been posting more Asian recipes..dear :-P
Tom bought me a cast iron sizzling pan few months ago. I like to serve my food in a clay pot or a sizzling pan because they keep your food warm longer. I especially like pipping hot. :-p
I like to order sizzling noodle if I dine in at the food court inside the shopping mall. I can say it is available in every shopping mall? It is because I seldom find a good noodle stall operate in the food court. If the sizzling noodle served to me is not good, I could just simply add in soy sauce and chili to "cure" them and it won't tasted too bad since the noodle served warm with the sizzling plate.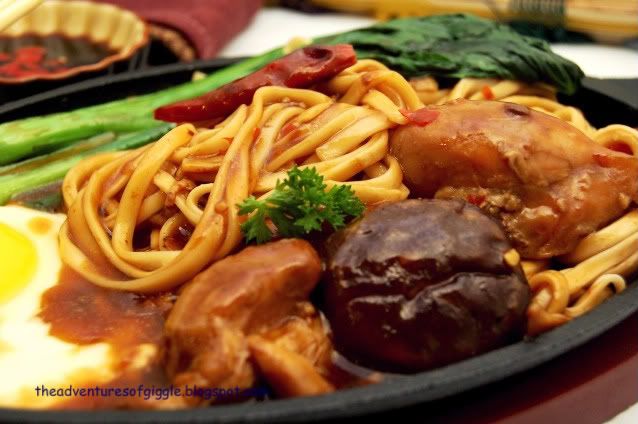 It is not difficult to make sizzling noodles on your own, here's my recipe and direction. Hope you like it. :-)
A) Noodle for 3~4 people.
1. I use ramen noodle - cook to about 80% doneness, as it will be cooked again on the sizzling pan. You can substitute ramen with Yi Mee.
2. 3~4 eggs
3. Some green onion or cilantro for garnishing.
B) Chicken
1. 600g boneless chicken leg meat - marinate overnight with :
i) 1tbsp soy sauce
ii) 1 tbsp oyster sauce
iii) 1/2 tsp dark soy sauce
iv) 1 tsp sesame oil
v) 1/4 tsp white pepper
vi) 2 cloves garlic - crushed
vii) few ginger slices
C) Gravy
1. 2~3 cloves of garlic - minced
2. Few ginger slices
3. 1 tsp soy paste (normal or spicy)
4. 3~4 dried chili - unseeded, pre-soaked
5. 2~3 dried mushroom - pre-soaked, sliced then rub with some sugar (a trick to make the mushroom more springy)
6. 250~280ml water.
7. 1 tsp oyster sauce
8. 1/2 tsp dark soy sauce
9. A pinch of sugar or to taste
10. Salt to taste
11. 1 tbsp spoon corn starch mix with 2 tbsp water to thicken the gravy.
Steps :
1. Heat and grease a frying pan.
2. Fragrant garlic and ginger slices.
3. Add in soy paste, dried chili, mushroom slices, stir for about 20~30 seconds, watch out the heat, don't burn the ingredients.
4. Stir in marinated chicken, cook for about 4~5 minutes.
5. Slowly pour in water, bring to boil.
6. Add ingredients C7~C10, thicken the gravy with corn starch liquid.
10. Remove from heat and set aside.
11. Heat up the slightly greased sizzling pan (about 2~3 minutes).
12. Add in noodle, immediately, scoop the chicken and gravy to the sizzling plate, cook for about 1 minutes.
13. Slightly stir the noodle to coat well with the gravy.
14. Add in egg, for another 30~45 seconds or the egg reach your desired doneness.