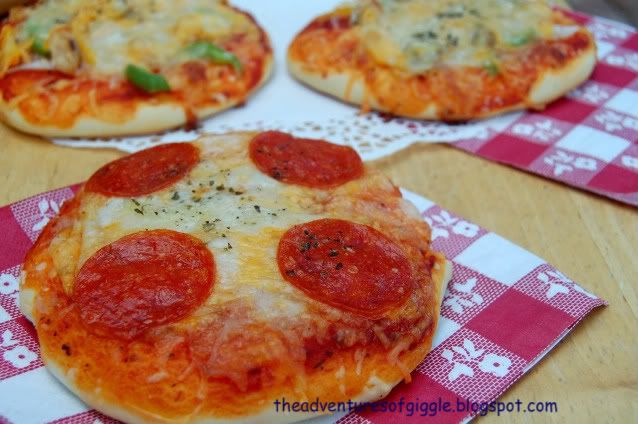 It has been a while since I last made my pizza. I don't like to just eat one kind of topping. This time, I split the dough into 4 portions, so I could make 4 different toppings - pepperoni, grilled chicken with onion, mushroom pepper and cheese.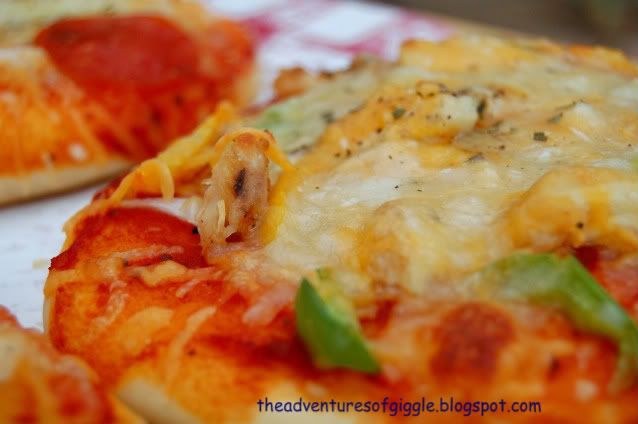 Grilled Chicken Topping
I used the same recipe as last time but halved the volume. It yield 4 pieces of 4" size pizza. If you want to make more, just double the volume.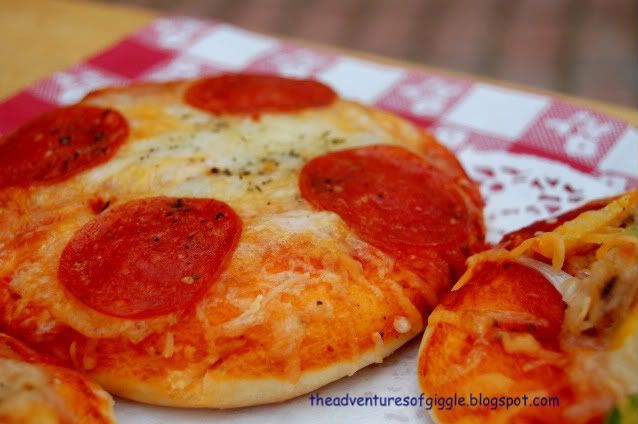 Pepperoni Topping
Pizza crust recipe :
1. 1/2 pack (3.5g)instant yeast
2. 1.5 cups all purpose flour (normal flour)- extra for dusting
3. 1/2 tbsp of sugar
4. 1/2 tsp salt
5. 1.5 tbsp olive oil/vegetable oil
6. 1/2 cup warm (110F/43C) fresh milk
7. 2 tbsp warm (110F/43C) water
Steps :
1. Sieve all the dry ingredients except salt in a large mixing bowl. Add in the salt in flour mixture after sieved.
2. Mix the milk, water and oil together, then pour into the flour mixture, stir until all the dry ingredients mixed well.
3. Dust your hands and working surface with some flour and slightly knead the dough for 3~5 minutes or until it forms a soft ball.
4. Put the dough in a slightly greased bowl, cover and let it rest for 30 minutes.
5. Remove the rested dough and place it on the working surface and knead about 4~6 times.
7. Split the dough into 4 balls, and roll to about 4" round piece.
8. Let the dough rest 5 minutes before you top with your favorite sauce and topping.
9. Bake in an oven preheated to 425F/218C for 12~15 minutes.