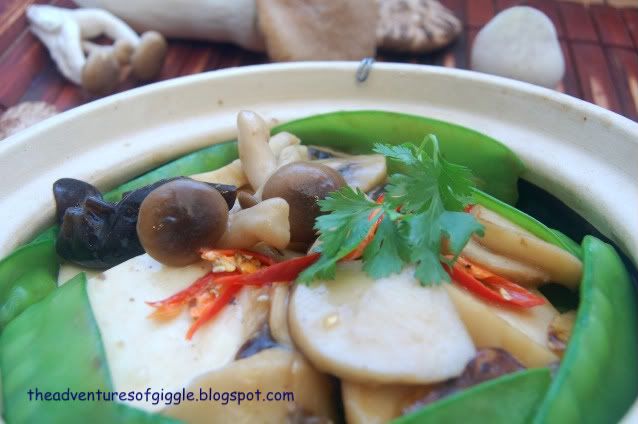 I need to get rid of my "spare tire" hanging there on my belly --> a side effect of baking and eating too much recently.
I decided to cook more vegetable and less meat (Tom can't live without meat
(Editor's Note: Vegetarians are weird. Vegans doubly so.)
), so I grabbed different kinds of vegetable and mushroom from the stores. Do you guys know that by consuming more fresh mushroom, your skin will be smoother? I am not sure if this works for you. I did have this experience while I was working in China few years ago. The cook in our hostel cooked at least 5~8 mushroom meals in a week.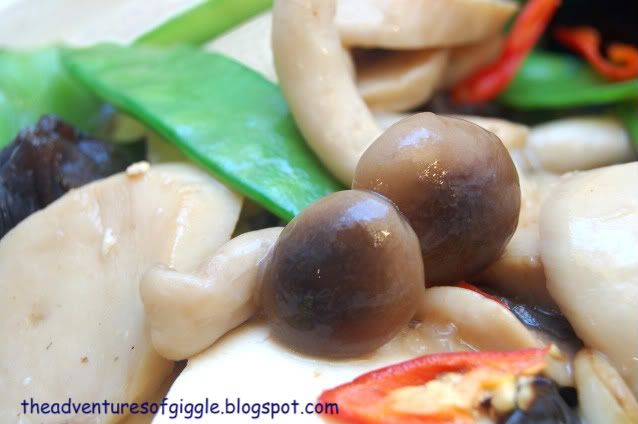 Cute little beech mushroom!!
At that time, I was not a big fan of mushroom, but I did not have too much choices to eat. After several weeks of working there, I noticed that my skin of my arms and hands turned smoother (usually rough like sand paper.. lol), I started to cook and consume more fresh mushrooms afterward... hehehe... women --- beauty first!

You can cook this dish with any kind of fresh mushroom available. Amount of uses is adjustable to your personal liking. You don't have to serve it in a clay pot if you don't have one.
Ingredients :

1. 10 white mushroom - sliced

2. 1 stalk abalone mushroom - sliced

3. 1 small bunch of beech mushroom - separated

4. few pieces of fresh black fungus (can use pre-soaked dried black fungus too)

5. Some snow pea

6. 150g silken/soft tofu - cut to10cm thick slices

7. 3~5 cloves garlic - crushed or chopped

8. 1 tsp oyster sauce

9. Salt to taste

10. 2~3 tbsp water

11. Some Chinese celery for garnishing
1. Heat a lightly greased frying pan.

2. Brown the garlic, stir in ingredients # 1~4. cook for 2~3 minutes over high heat.

3. Add in snow pea, oyster sauce, continue to another 1~2 minutes.

4. Salt to taste, add some water if needed.

5. Transfer the mushroom to a clay pot, add in tofu, bring to boil.

6. Remove from heat, garnish with some Chinese celery when serve.