I'm sooooooooooooooooooo happy!!! My first attempt to shape hot dog bun and it turned out so well, just like the one sold at the bakery shop!!
I just got a bread maker recently, it makes my life so much easier. I don't have to knead the hell out of the dough. You just have to get all the ingredients ready and let the machine do all the work.
Assorted Buns....
I have not tried the full function, just use the dough function to do the mixing and kneading process, then I remove the dough to a large mixing bowl. I will definitely make more bread with the full function of this machine in the near future, stay tuned ya!!!
Blueberry Bun.
For the dough base, it is a bit different from my bacon onion roll recipe as I was running out of all purpose flour, I substituted it with lesser amount of cake flour and increased amount the bread flour and milk powder. I increased the amount of sugar too as the last attempt was a bit too bland. Eventually, all turned out well, I will use this recipe as my bun making in future.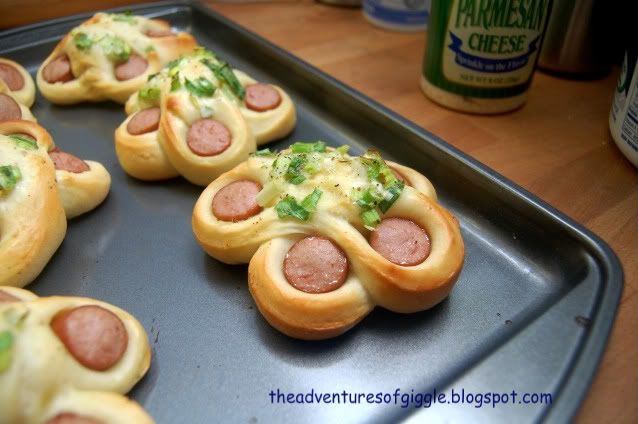 Fresh from the oven!
Bacon Onion Roll again!!! Our favorite, can't miss it! :-)
Inside texture, soft and moist...
Here are my recipes and steps, happy baking! :-)
A) Dough
1. 1 pkg instant yeast (7g)
2. 480g bread flour
3. 120 cake flour
4. 110g sugar
5. 10g salt
6. 25g milk powder
7. 300ml water
8. 1 egg
9. 60 unsalted butter - soften in room temperature
B) mix some egg yolk and milk to brush the surface before place in the oven
C) some butter to brush on the surface after remove the buns from the oven
Steps :
(If you don't have bread maker, please refer to my previous post -
Bacon Onion Rol
l for the hand mixing and kneading steps).
1. Place all the liquid ingredients (water and egg) first to the bread pan of the machine.
2. Then add all the dry ingredients EXCEPT yeast.
3. Make a small well on the top of the dry ingredients (not too deep to keep yeast away from the wet ingredients, add the yeast to the well.
4. Select the DOUGH function and press start.
5. My bread maker takes - 6 minutes for first knead (mixing) and 24 minutes for kneading.
6. I added the butter after first knead.
7. When the kneading is completed, remove the dough into a large lightly greased mixing bowl (this is optional, I wondered my bread pan is not big enough for my rising).
8. Cover the mixing bow with plastic film, rise for 2 hours 30 minutes at warm (approx. 28C) and moist place (Arizona is too dry, I rose my dough in the oven-non heated, and put a bowl of boiled water in it).
9. The dough should be triple in size after 2.5 hours.
10. Punch the dough with your fist to deflate the gas.
12. Divide the dough to 60g balls (I didn't divide all, I kept some for my bacon roll making), round them with your hands.
D) For Hot Dog Onion Bun
i) 6 hot dog
ii) 1/2 cup of spring onion mix with 1/2 egg, pinch of salt and sugar, black pepper.
1.Flatten the dough A, roll up with a piece of hot dog.
2. Cut it (just cut through the dog)
3. Twist and shape it as picture shown, let it rise for another 50 minutes, cover with plastic film.
4. 15 minutes before rising time up, pre-heat the oven at 350F.
5. Brush the egg liquid #B
6. Top each bun with a spoon of onion mixtures.
7. Bake for 13 minutes
8. Remove the buns from the oven, lightly brush with butter for shinny effect.
Temperature and time are to be adjusted as different oven will bring different condition and result.

E) Blueberry Bun
i). 1/2 cup (or as needed) of homemade blueberry jam -
recipe here.
If blueberry jam is not available, use blueberry pie filling and omit ingredient #ii below.
ii). Some fresh/frozen blueberries.
iii). Some icing sugar (optional)
1. Flatted the dough ball, roll it up.
2. Let it rise for 50 minutes.
3. Cut the middle of the dough with scissors
4. Brush with egg liquid B
5. Top with blueberry and jam.
6. Bake for 13 minutes.
7. Lightly brush with butter after remove from oven.
8. Sprinkle with some icing sugar on top of the buns. (optional)
Stretch to check the texture after kneading --> size of dough before rise
Size of dough after rose ---> punch to deflate the gas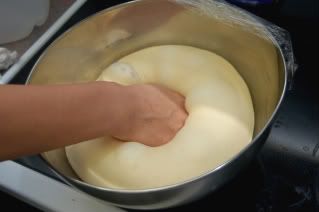 Hot dog bun making